You've probably heard us say on more than one occasion that the bedroom is one of the most important rooms of the house to style beautifully — sure it's out of sight from most guests but it's your space to relax and unwind and that can be hard to do in a bedroom that's uninspiring.
Many of our readers have emailed in this week to ask for bedroom inspiration and one reader specifically asked for inspiration to create a white, grey and copper bedroom which is a combo to die for!
Here are our tips to create a winning white, grey and copper bedroom!
Related article: 10 instant updates to refresh your bedroom
Related article: Stylish and eco-friendly: Discover the removable wallpaper bedheads from Siesta Walls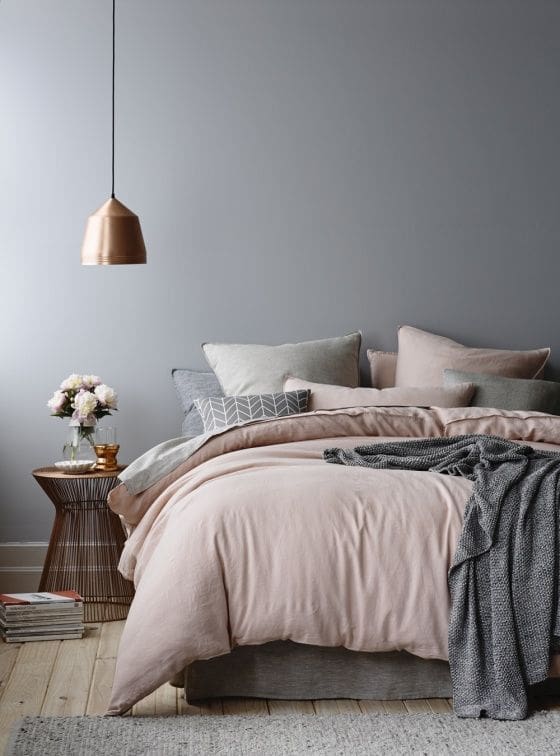 Tip 1: Work out your colour ratio
A ratio many interior designers use to create a balanced colour palette is 60:30:10 where 60% of the space is predominantly 1 colour, 30% another colour and 10% an accent colour.
For this brief we would recommend either 60% white: 30% grey: 10% copper OR for a moodier look 60% grey: 30% white: 10% copper. And if you really want to go moody, you could even replace white with blush pink which is a perfect match with copper!
Copper is great as an accent but where we've seen it used as more than that — flashback to Chris and Jenna' copper wall on The Block Glasshouse last year — it can detract from a space rather than enhance it.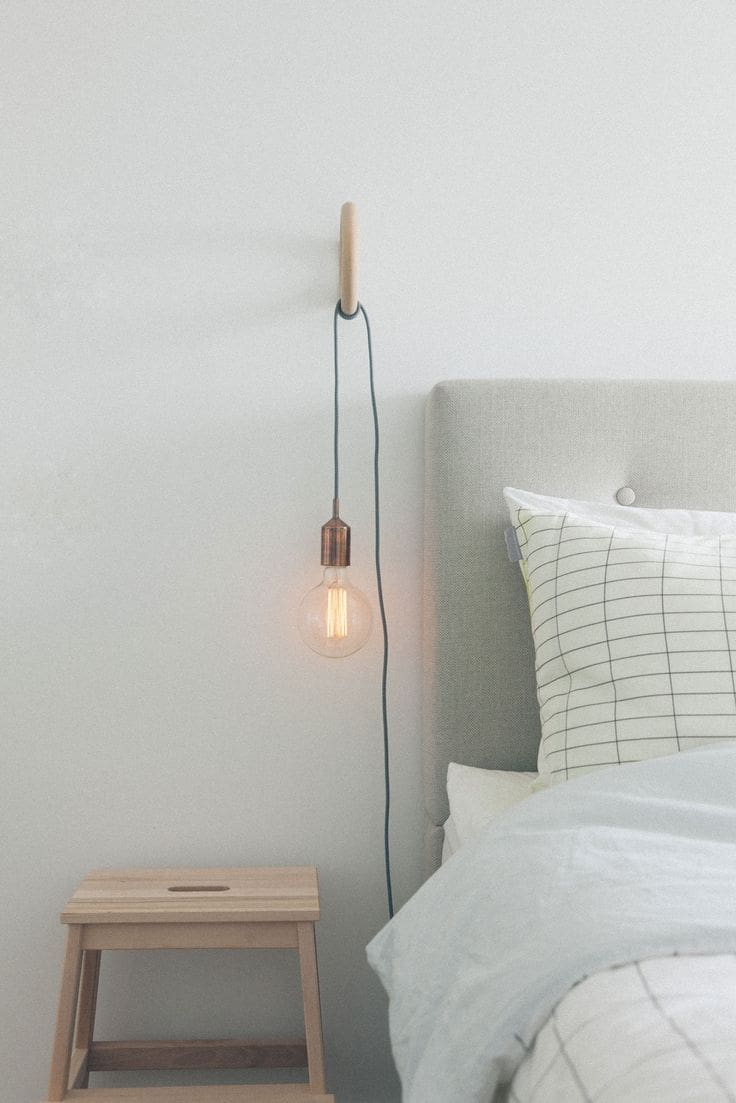 Tip 2: Paint
Now that you know the ratio of colour you want to use in your bedroom, it's time to paint the walls for a fresh, crisp look.
If you've opted for predominately grey, you could paint all your walls in a warm medium grey (Smoky Silhouette by Haymes is one of our favourite colours) or if white is your 60% colour, find a crisp cool white that works well with grey and copper (Greyology 2 is our top pick). Check out these tips to select the perfect shade of white paint.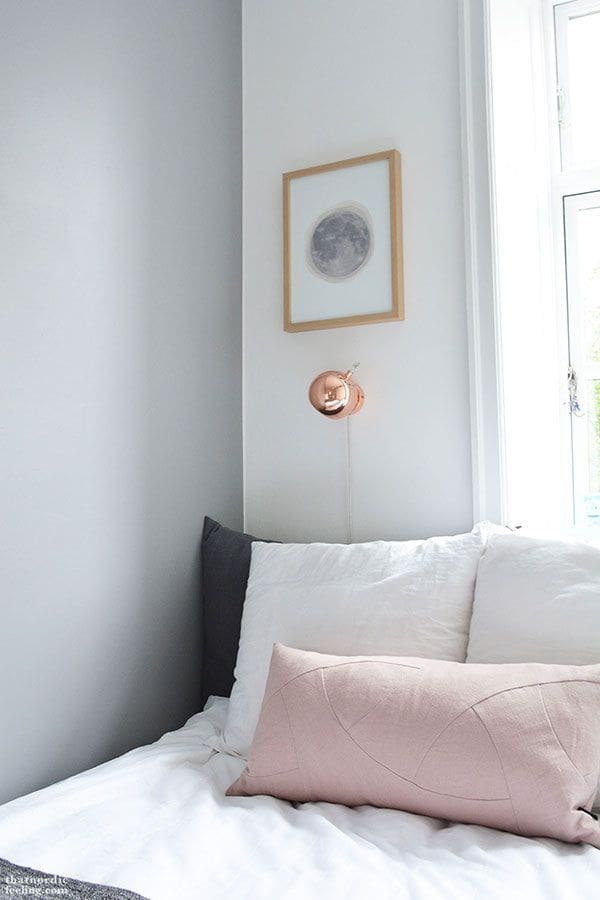 Tip 3: Bedding
We've suggested picking your bedding before delving into home decor because your bed makes up one of the largest areas in the room and immediately draws your eye.
Depending on the style of room you want to achieve — such as Scandi or Wanderlust — your bedding will need to fit that brief. For example, if you want to channel a minimalist style interior, look for bedding in a solid colour and add interest with texture. Or for a bohemian version, consider playing with a print like the Aztec style bedding pictured below.
Think about how you want to feel in your bedroom and then go shopping for the right quilt set. If you're unsure what your aesthetic is, take our free interior style quiz here.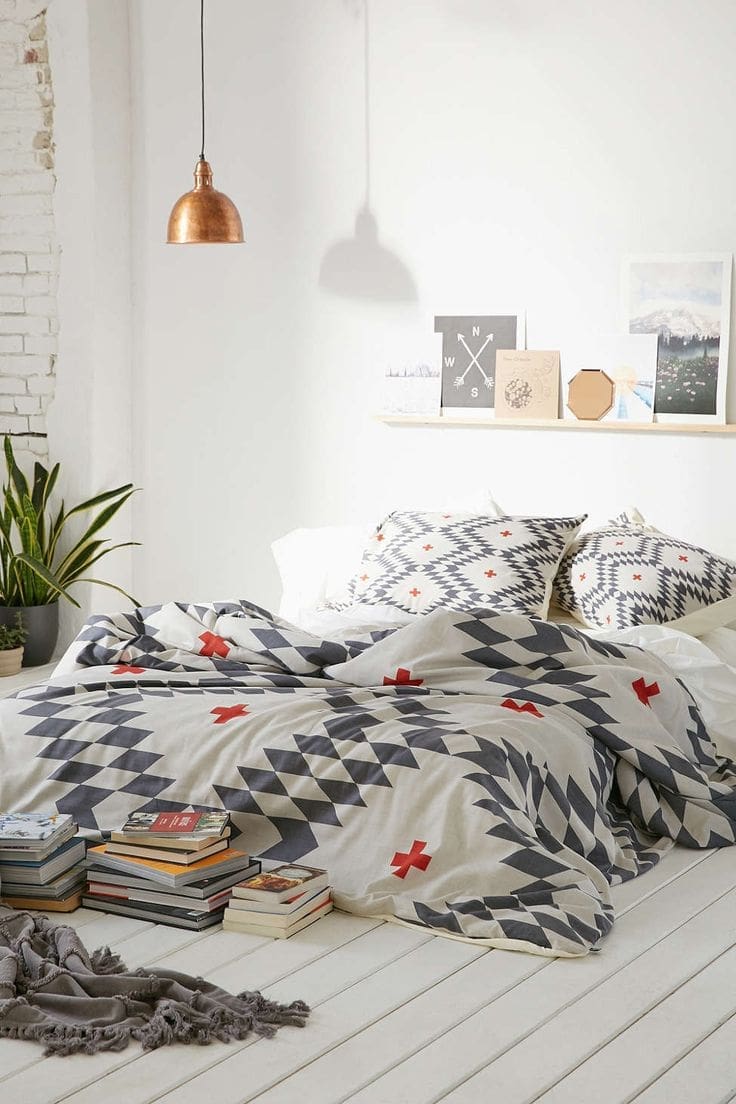 Tip 4: Accessorise with copper
Above we said that copper works best as an accent colour and the easiest and most versatile way to introduce copper is through home decor.
Decorative accents like a copper lamp, candle sticks, vase or tray are just some ideas to add a tasteful amount of bling to your bedroom.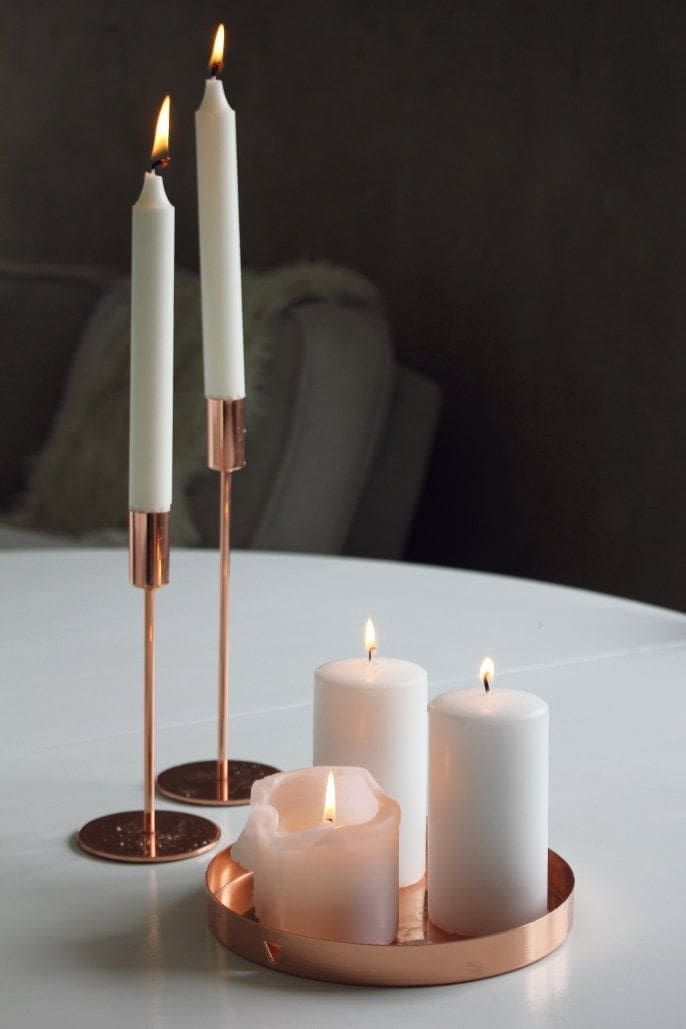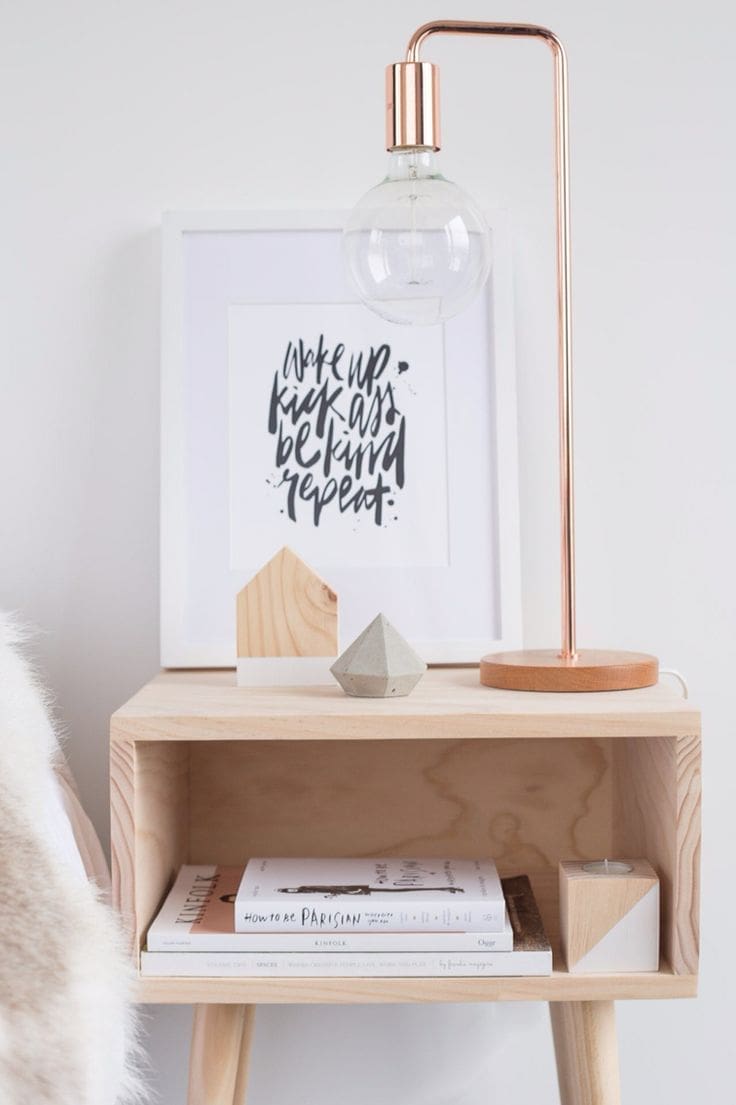 Tip 5: Layer texture
At times a colour scheme of white, grey and copper can come off feeling a little 'cold' so it's important to balance the space with warm textures.
In many of the photos above you'll spot natural timber (photo frames, side tables and shelf) or chunky wool knits — these natural textures soften the space and create a more inviting feeling.
Sheepskin throw, felt accessories, woven rug or upholstered bedhead are some other ideas to bring warmth to the space.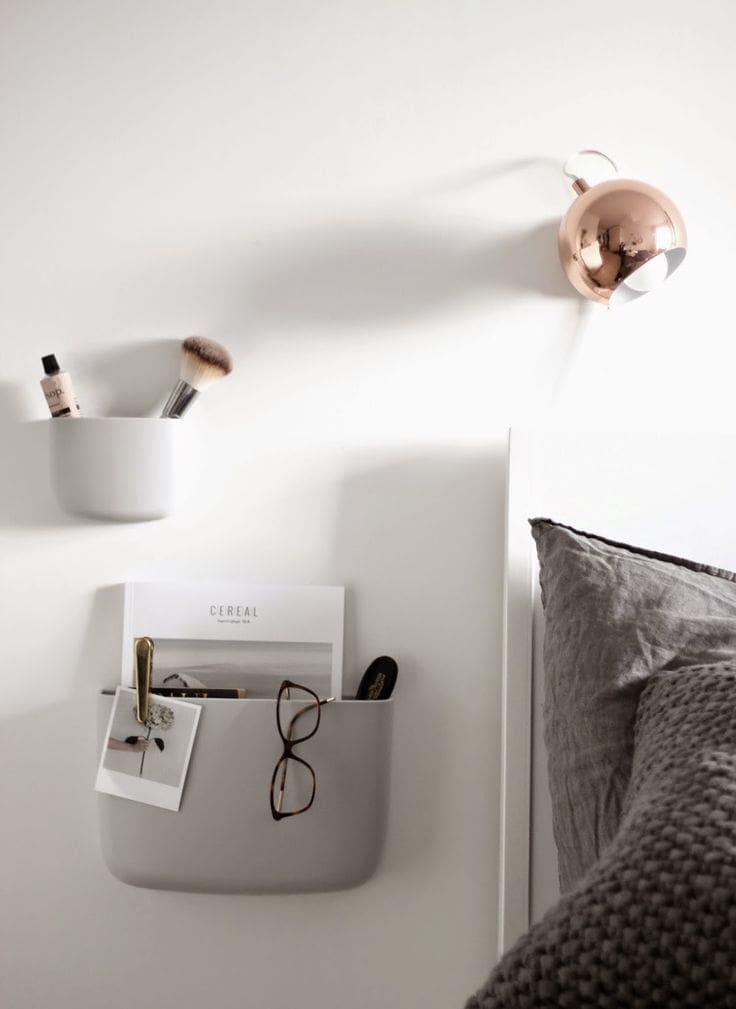 There you have our top 5 tips to create a white, grey and copper bedroom — do you have any other tips to add? Have you found the most amazing copper accessory you'd love to share? Comment below to tell us what you think!