Minimalism and minimalist decor have been trending in recent years and is one of the biggest design influences of 2023! Here at Style Curator, we love the minimalist aesthetic. Not only is visually beautiful, it also inspires a life of simplicity and calm.
There's a common misconception that a minimalist style home has to be empty, plain and boring but it doesn't! While the aesthetic generally strips things back to essentials, modern minimalism incorporates beautiful home decor with an emphasis on items of luxury or natural materials. We've scoured the internet to find you the best minimalist decor you can make yourself!
Related article: Gina's master bedroom makeover: Creating a warm, minimalist modern bedroom
Related article: 20 weekend renovation ideas and home improvement projects to spruce up your home
1. Textured art
Mmmmk, it's a bit hard to have missed the DIY textured art trend. So simple to create, all you need is a canvas, joint compound, paint… and a vision! From abstract swirls to arch forms, there's no limit to the types of textured patterns you could create.
Make a large-scale piece and use it as a focal point in a room, or create a smaller textured artwork to incorporate into book shelf styling or a gallery wall.
2. Plant propagation wall decor
The benefits of house plants are endless! They can boost your mood, improve air quality, lower stress and they're pretty to look at 😉 Create interest in your minimalist home by putting up plant propagation wall decor. It's a unique way of displaying more greenery in your home and they also act as a piece of art (living art).
3. DIY minimalist concrete tray
Trays are one of our favourite items of home decor. They're so versatile and are an essential element of vignette styling!
Concrete trays are easy and inexpensive to make. Get creative by using different forms to create unique shapes or experiment with oxides to achieve interesting colours. We've long been fans of concrete decor and you can find even more DIY concrete home decor ideas here.
4. Minimalist terrazzo side table
Okay so this one is technically minimalist furniture rather than minimalist decor but we had to add it to the list! Our DIY terrazzo side table has clean and simple lines that fits perfectly in a minimalist style home.
Check out the full DIY side table tutorial here or watch our video on Instagram.
5. Ikebana vases
One of our favourite decor pieces on this list are Ikebana vases because they turn a few simple stems or flowers into sculptural art! Ikebana is the Japanese art form of arranging flowers, blossoms, branches, stems and leaves.
The vases themselves are actually quite simple and plain but as soon as you add elements of nature into them they become magical!
While Ikebana is an art form that takes practice, why not have a crafternoon trying to make your own?! Pick up some clay and be inspired by these examples to create your own unique piece.
6. Paper mache bowls and vases
Just like the concrete tray, these paper mache bowls and vases are versatile. Fruit bowl, catch-all tray in your entry, trinket dish on your bedside table… there are so many uses for bowls and vases around the home. We also love how the irregular finish brings an added element of texture to your minimalist space!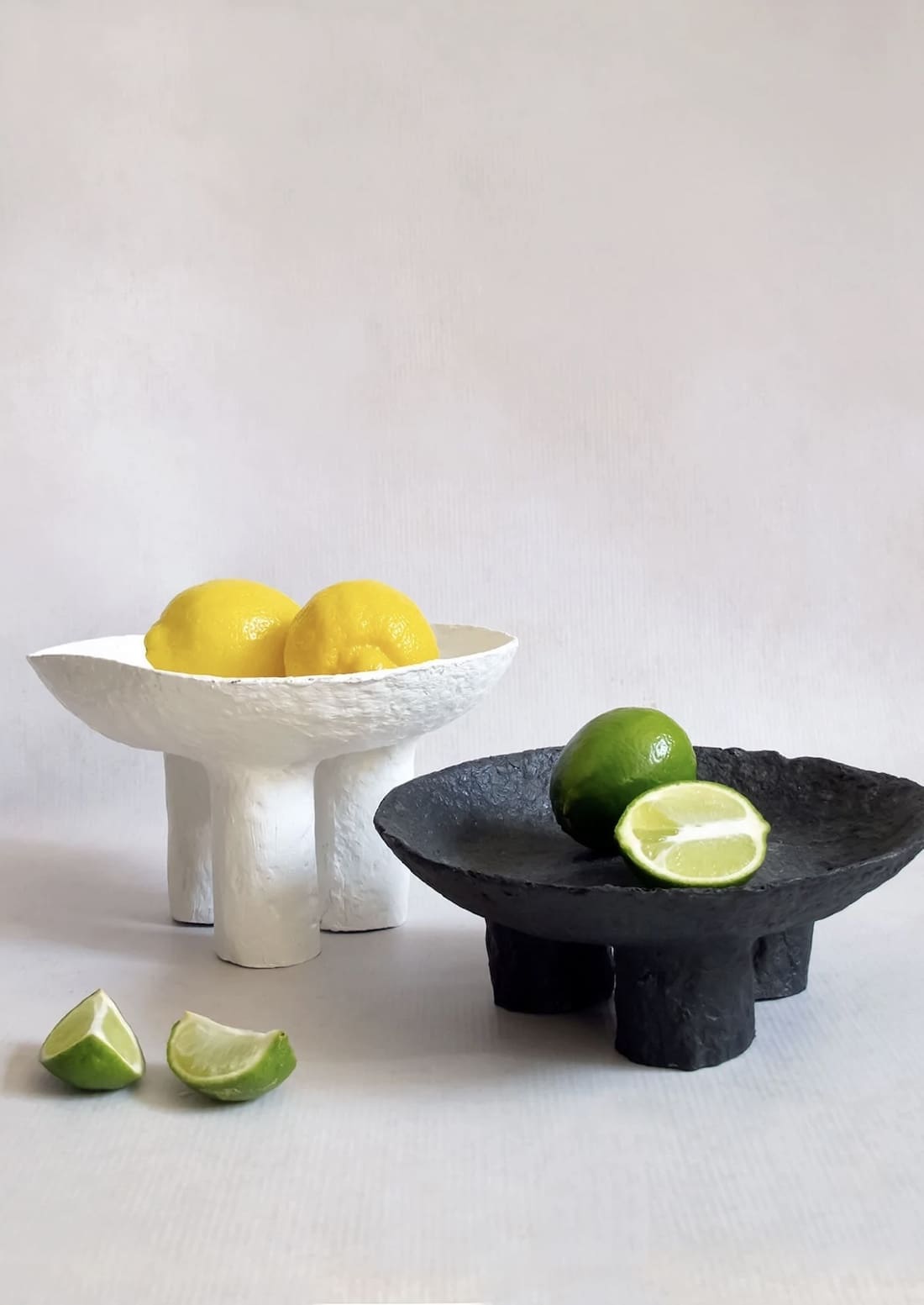 7. Wall hooks as minimalist decor
When you hear home decor, most of us immediate think of decorative objects but it can also include functional items, such as wall hooks.
From simple pieces of dowel to concrete hooks, there are so many wall hooks you could make to add interest to your walls. Think of your favourite material — travertine perhaps? — and play with shape to create wall hooks that can be like art in your space.
8. Minimalist wall sconce
As much as we love extravagant and dramatic light fixtures to illuminate a room, to achieve the minimalist aesthetic you can't beat a pared back wall sconce.
Let these images serve as inspo on how you could hack your own minimalist wall light. We've seen people turn indoor planters into wall lights… or you could purchase a wall light and give it a minimalist makeover like Gina did with the textured wall lights in her master bedroom.
9. Organic shaped mirrors
Pebble or pond mirrors (aka organic shaped mirrors) go hand in hand with the minimalist aesthetic.
Pick up a mirror and a glass cutter and have fun creating your own wavy mirror. Just be sure to wear protective gear as this DIY project can be dangerous but oh so worth it!
Alternatively, you could use timber or clay to create a smooth border around an existing mirror. This avoids the need to cut the mirror… which from experience we can say is a bit hit and miss!
10. Create your own boucle moment
Whoever said boucle would be a short-term fad can eat their words! More than a year into this trend and boucle is as popular as ever.
Dip your toe in by making a couple of boucle cushions to scatter on your bed or sofa, or go all-in and create a boucle headboard or bench seat.
11. Unique candle holders
Candles smell amazing and they look beautiful all year round. And when you add a candle holder into the equation, they make a stunning decor item too. We love that coil clay candleholder below but there's no limit to the type of materials you could use or forms you could create!
Are you a fan of minimalism? Are there any other minimalist decor ideas you've found that should make the list? Let us know in the comments down below!