If there's one thing we all want when selling our home, it's to get the maximum sale price! And a few upgrades to your home — inside and out — can add significant value and help you get the highest possible sale price for your property. There are so many ways to increase the value of your property for sale and make your home more appealing to prospective buyers. Here to share 10 of the best ways to update your home for sale is renovation expert Naomi Findlay.
Related article: How to prepare for an open house like a pro
Related article: 8 quick fixes to get your home ready for sale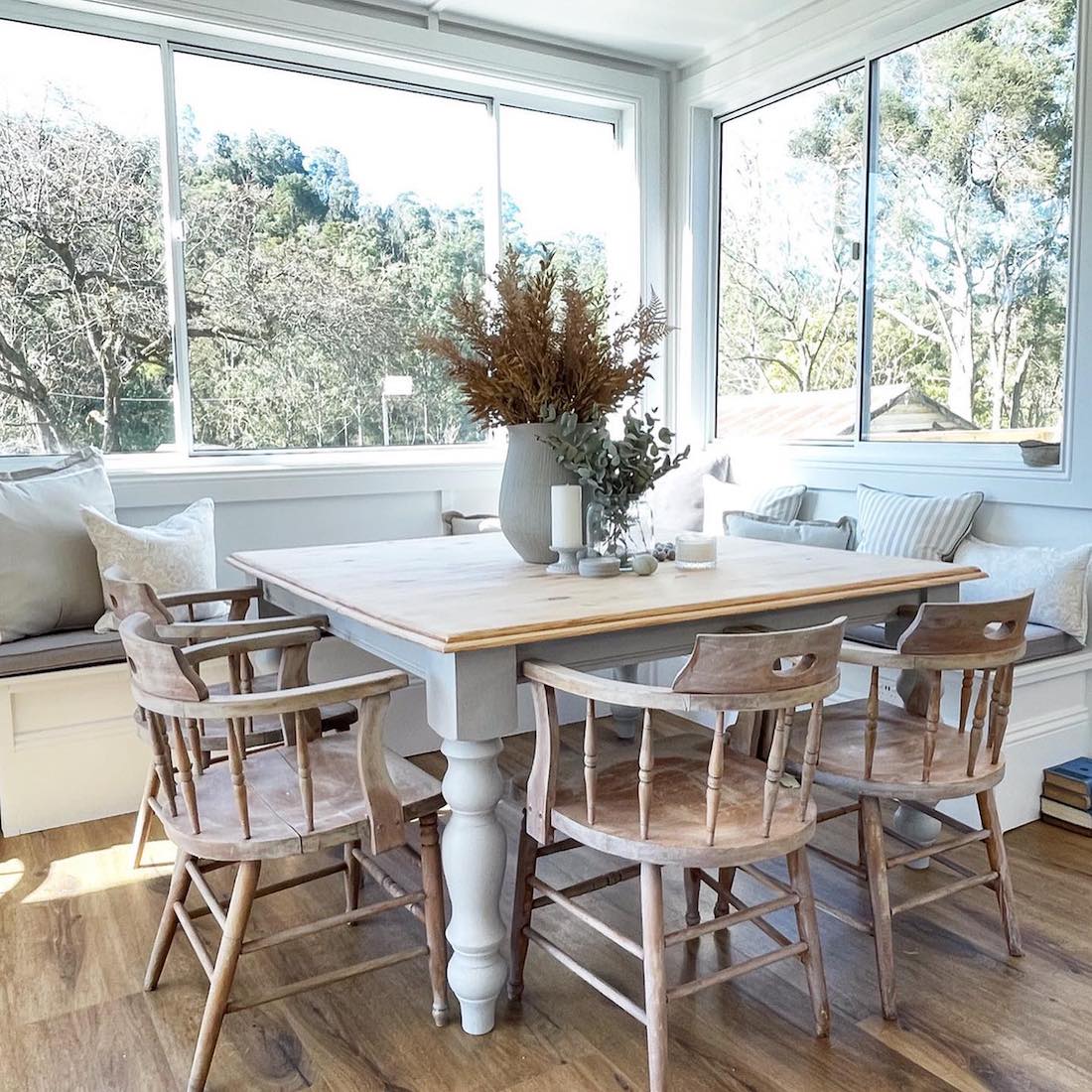 Words by Naomi Findlay
1. Kitchen
The kitchen is the heart of today's home. And it's one of the rooms buyers are most focused on when they step inside a property for sale. The good news is that you don't always have to renovate a whole kitchen from scratch.
A new benchtop will give your kitchen a major lift. Or if your budget is a little tighter, try refacing your cabinets and replacing your hardware for an instant update.
If you want to really create the wow-factor, you can give your kitchen an additional work-space and more storage with an island. It will draw the kitchen out into an open-plan living or dining space and create the perfect entertaining area.
Find all my tips on how to affordably update a kitchen here.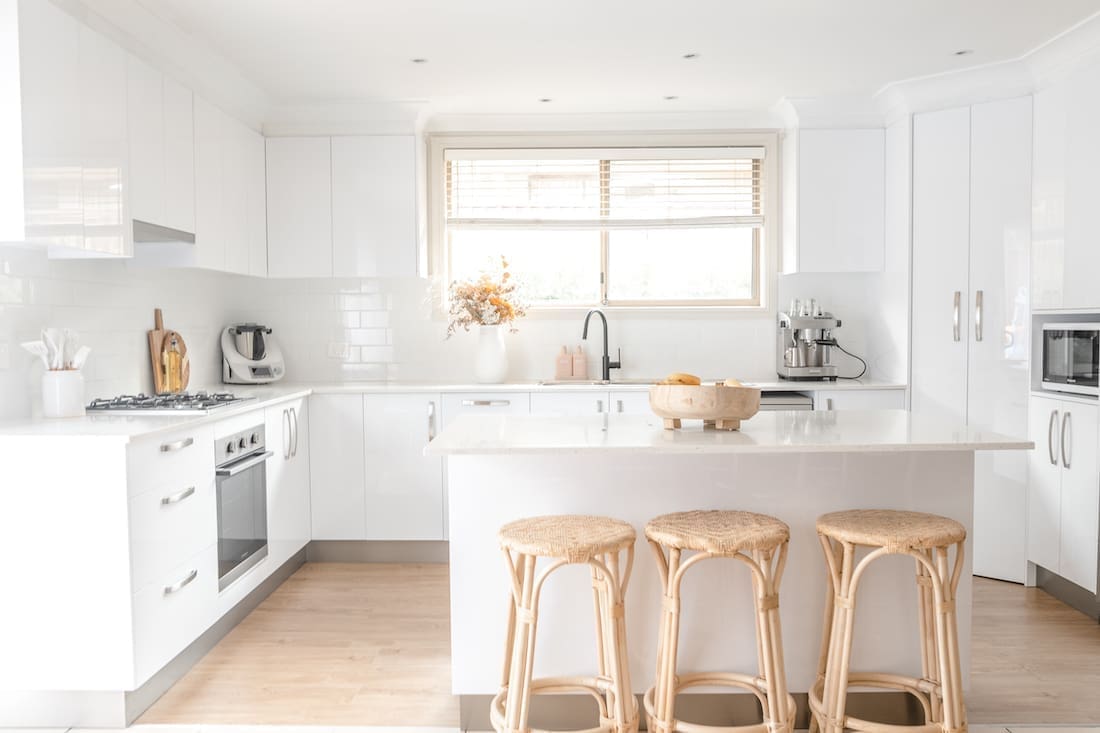 2. Bathroom
Bathrooms are now considered a retreat room, not just used for bathing. A great way to add value and opulence is through a new or updated vanity. It's important to choose a quality piece with a durable finish that will last the distance. It should also include plenty of storage so you can keep surfaces clear and tidy.
If you're working with a smaller room, you can create a sense of space by adding a bathroom mirror that extends as wide as possible. This will make the bathroom feel brighter and more welcoming. Consider modernising the room with updated fixtures, shower-screens and even a new toilet.
Darren Palmer shares loads of great tips on how to maximise space in a small bathroom here.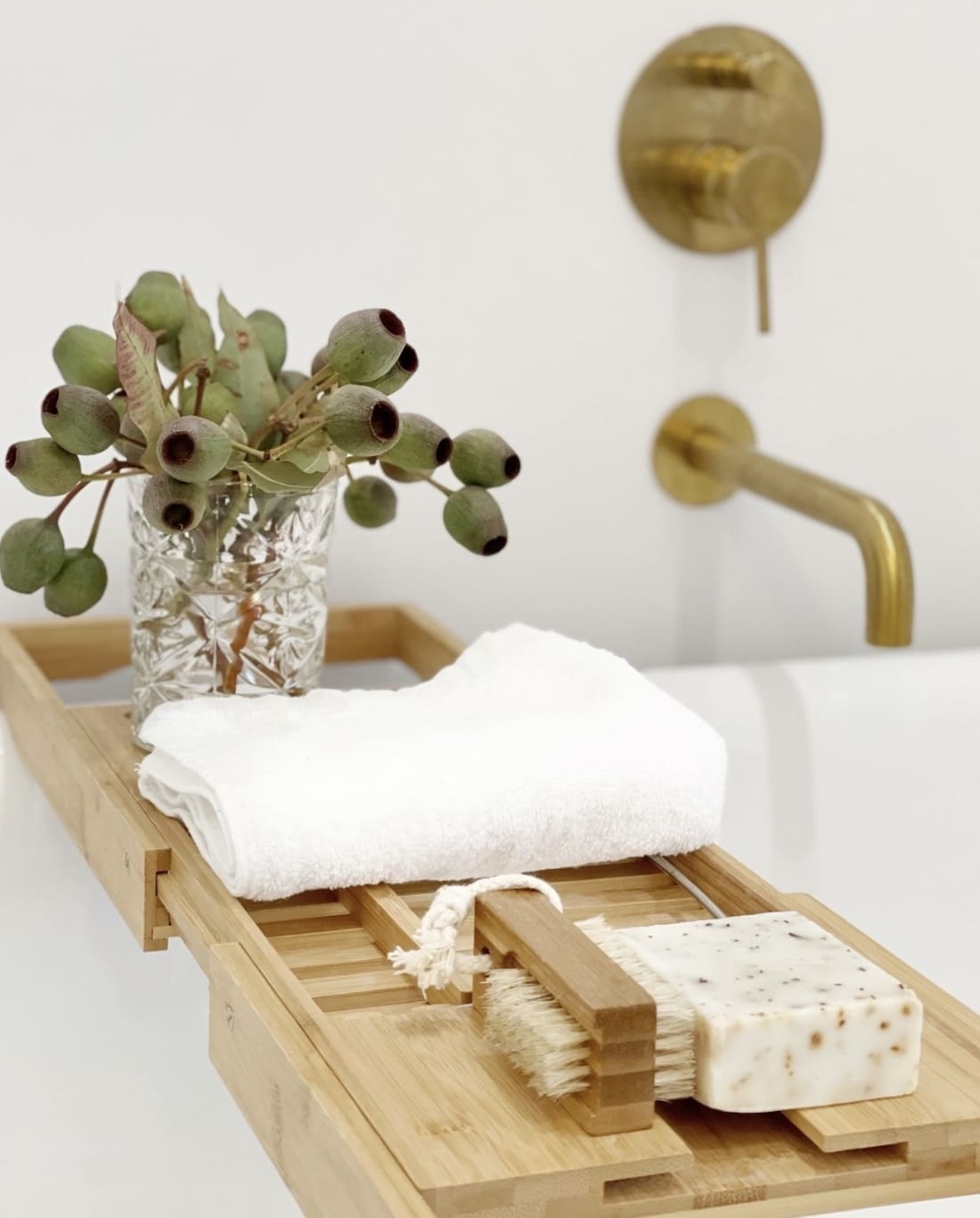 3. Outdoor
I truly believe your outdoor area is just as important as your kitchen and bathroom to a buyer these days. It's essential to have a functional and stylish indoor/outdoor area to use all year round and it can be a great extension to the footprint of your living space. Think shade and fans in summer and heating in winter.
When renovating an outdoor space, think about weather-proofing it for wind, sun, and rain. And ensure there's plenty of ventilation. Also consider privacy — you don't want to be looking into your neighbour's bedroom.
Check out these 5 steps to create a functional and stylish outdoor area.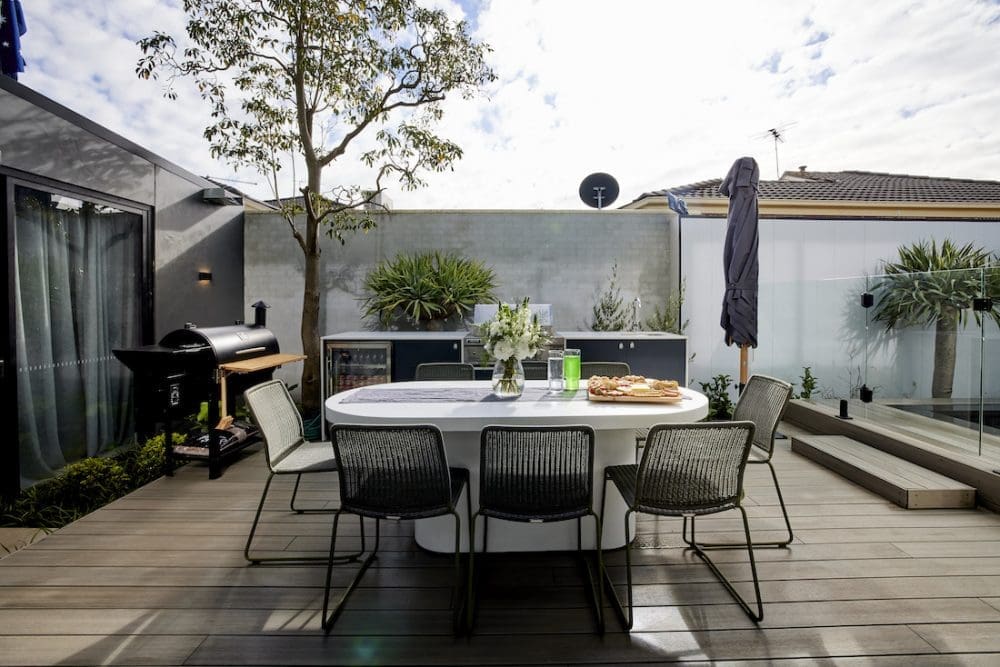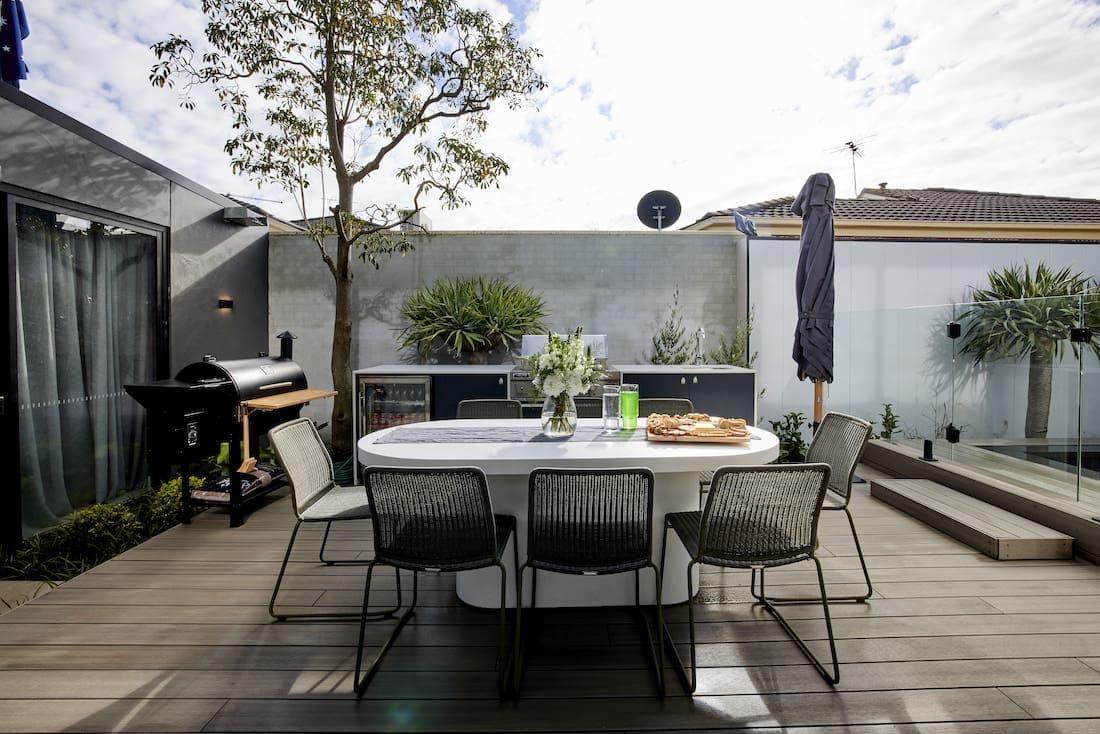 4. Paint
A fresh coat of paint can make all the difference to your property. For the exterior, it can increase your street appeal and inside it can brighten and update every space!
Be mindful of your buyers when choosing the colour palette. For your interior walls, stick with neutrals that are unlikely to date, such as white, grey and beige.
If you're going to paint the house yourself, check out these tips on how to get a professional paint finish yourself.
5. Street appeal
When you hear people talk about 'street appeal' they're referring to all of the little bits of information prospective buyers take in when they first look at your home from the street. This can include your landscape plants and your house's paint job, but even things as small as the humble letterbox and house numbers you've chosen make an impression.
Never underestimate the impact of a clean driveway and a well-paved walkway to the front door either!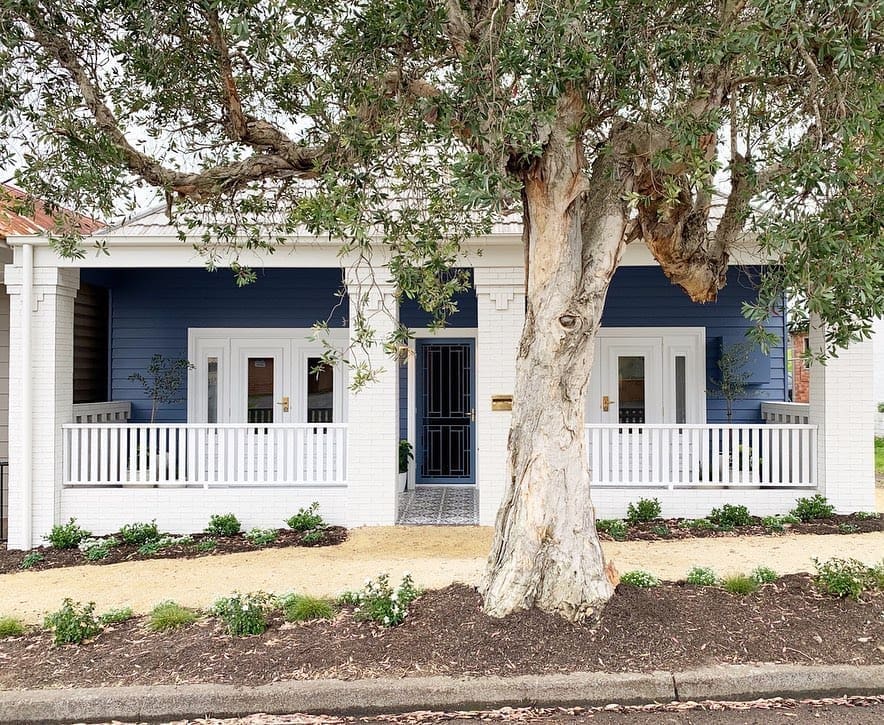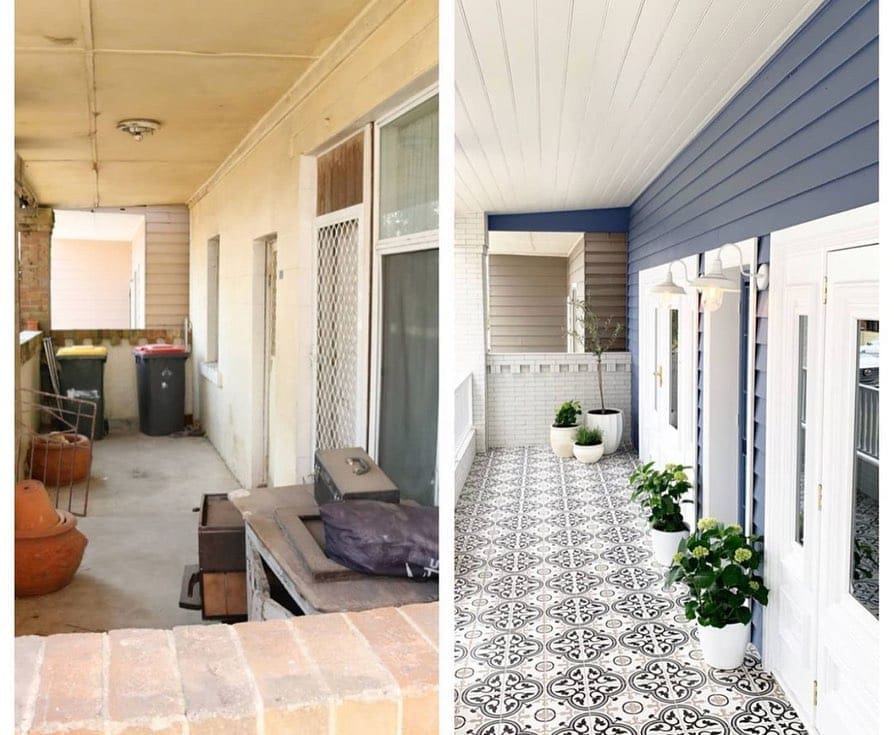 6. Technology
Let's face it, we're a technology-driven society. Older homes often only have one or two power points in a room max so adding more of these is an instant winner with buyers.
Also consider building in a tech hub or concealed cabinets for modems and chargers in your home — the kitchen can be an ideal spot for these additions.
7. Lighting
Natural and artificial lighting are one of the best ways to open up a space and bring warmth to the room. The best rooms to add natural light to are kitchens, bathrooms, laundries and hallways. Consider skylights if you can't have windows in these areas.
You can also accentuate your property with feature lighting like pendants or even install function lights on shelving and under cabinetry in the kitchen. Choose warm bulbs so the space doesn't get that clinical glow.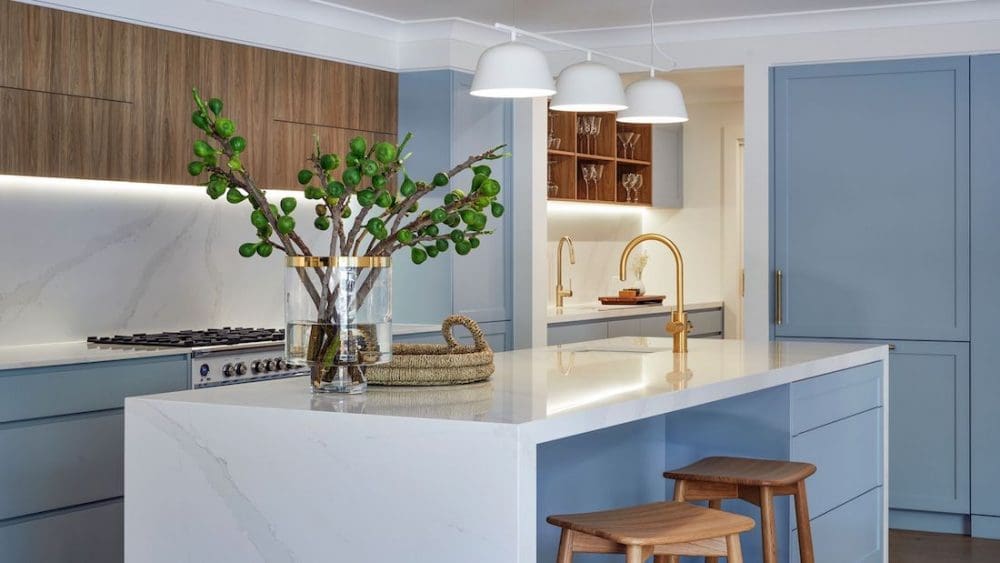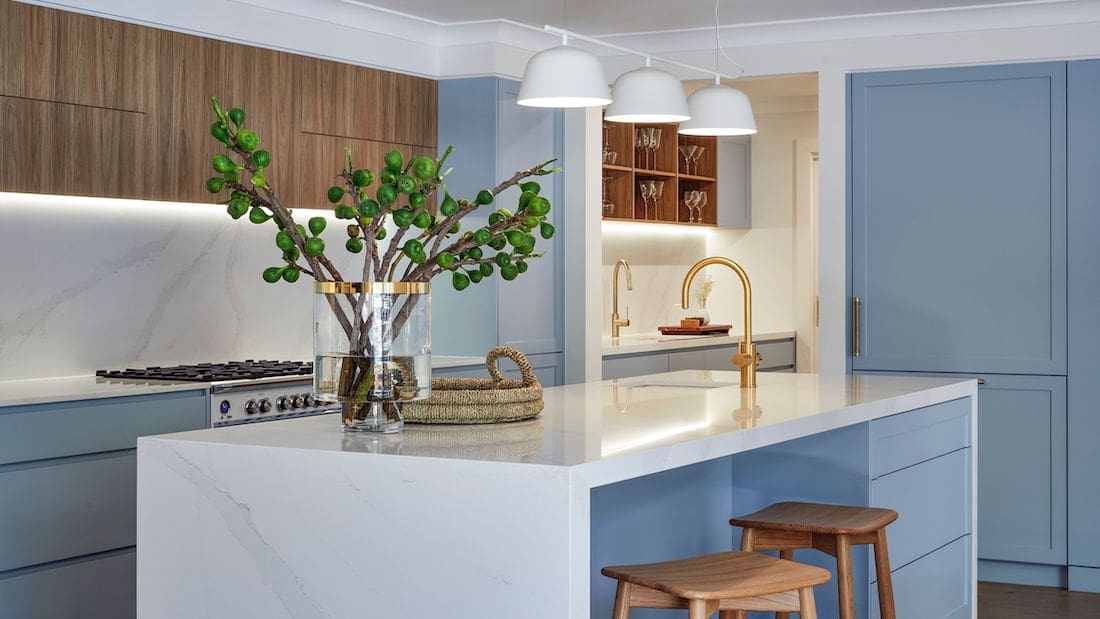 8. Storage
Storage is always a winner with the buyers. Unfortunately so many people get it wrong by creating functional spaces that look awful or by not thinking about storage at all!
Your storage space should be integrated into your home so it feels like it belongs there and is not just an afterthought. Think clever, your storage should be well fitted out so you can maximise its efficiency.
7. Style
Styling your property for sale can draw people to the highlights and diminish some of the low-lights of a home without having to renovate or change the structure of the property at all.
A well-staged property is one where placement is perfect, styling is perfect for the target market, and the most wonderful assets of the property are highlighted.
Not sure if a property stylist is worth the cost? Check out this article.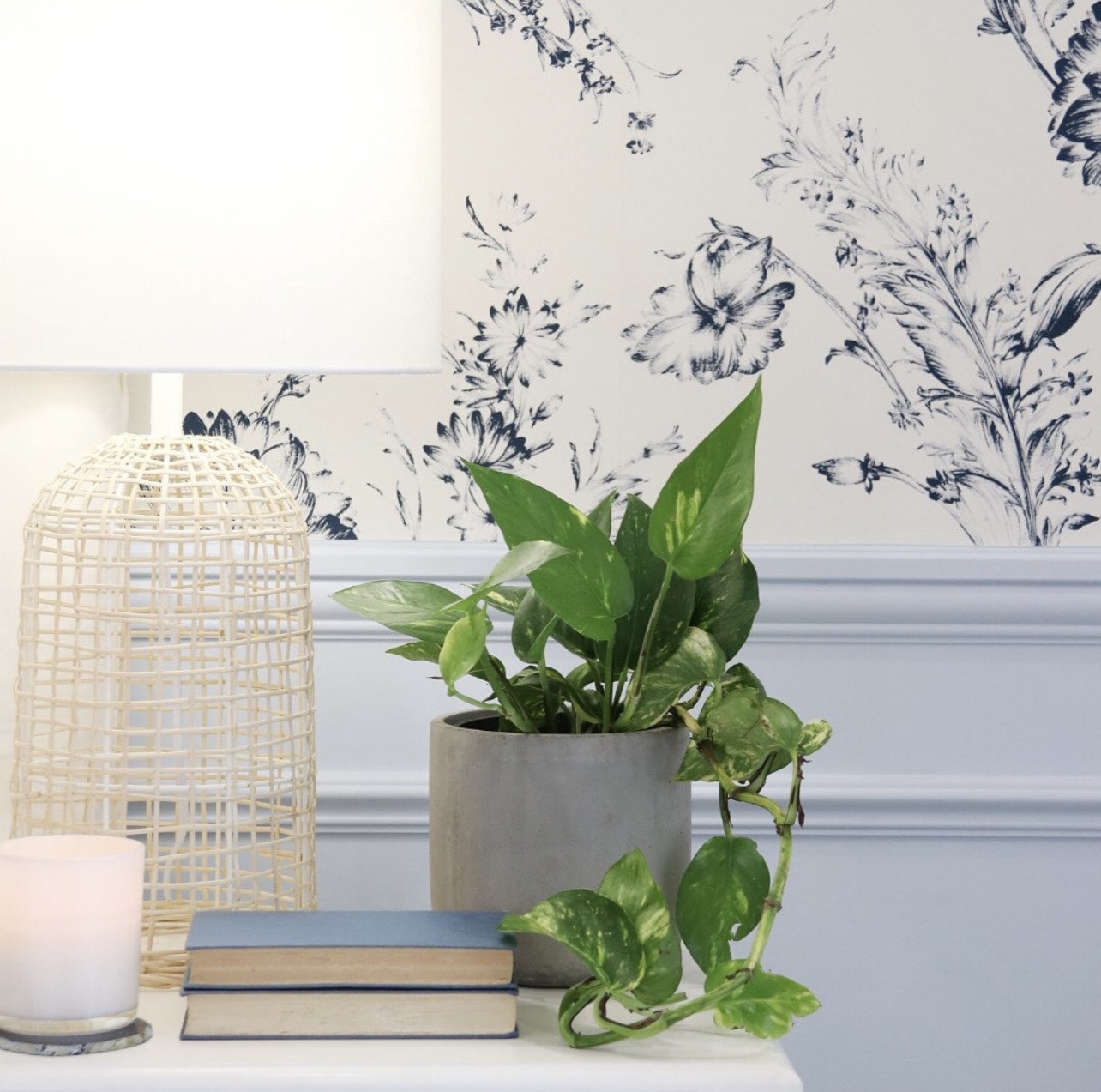 10. Floorplan
When considering adding value to your home with a knock-out floor plan, it's essential that you nail what is already there. It could be as simple as adding a study nook to the kitchen.
You don't have to make structural changes. It could be something as simple as adding extra storage at a higher level above the kitchen cupboards or increasing the footprint slightly of the kitchen island to create an entertaining kitchen rather than just a functional kitchen. I share my top tips to rejig a floor plan here.
About Naomi Findlay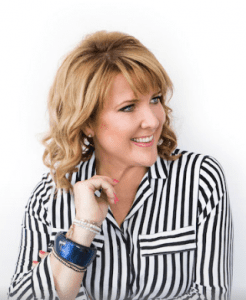 Naomi Findlay is Australia's Rapid Renovation Expert and she loves helping everyday people create a profit when renovating property. If you are ready to learn how to create a six figure income renovating property then learn how to choose the right property with her FREE success tips resources here https://www.naomifindlay.com/free_resources/
Web: www.naomifindlay.com
Facebook: facebook.com/naomifindlayofficial
Instagram: @naomifindlayofficial
This article was first published in June 2018 and continues to be updated with latest information and images.