Mirrors are an essential element in any bathroom… but there's a lot more to them than function alone! The right bathroom mirror can completely elevate your bathroom design. It may even integrate lighting to add ambience or further function to your space. Yet deciding what bathroom mirror is best isn't easy — especially given the huge amount of choice on the market now.
So if you're torn between arch, organic, pill, round or rectangular bathroom mirrors, keep on reading. We're here to help you decide with the lowdown on the most popular bathroom mirror styles and tips on which spaces they suit best.
Related article: Cost of bathroom renovations: What you need to know
Related article: Everything you need to know about lighting your bathroom
The round bathroom mirror
If in doubt, a round bathroom mirror is always a good choice. Round mirrors add curves to soften all of the hard lines of a bathroom. Plus, their elegant design creates a focal point in the space.
And if you really want to open up your bathroom by bouncing plenty of light around, don't be afraid to go big with a fabulous oversized round mirror.
Types of round bathroom mirrors
There's no such thing as 'just a round mirror'. Other than size, there are a range of different design styles to choose from.
Different types of round bathroom mirrors include:
round mirrors with lighting. You can choose from a back-lit round mirror for soft ambient lighting. Or there are round bathroom mirrors with a light rim around the face (front-lit round mirror) to illuminate your face when applying make-up or shaving
round mirrors with a frame. Frameless round mirrors offer a minimalist look and can appear as though they are floating in the space (especially when they are back-lit) or for greater impact, consider a frame in your choice of colour. Tip: it's popular to have the frame match your tapware, such as black or brass, for a cohesive look. Alternatively timber is always popular and can add warmth to your bathroom
round mirrors with storage. Technically this is a shaving cabinet but often people will look to incorporate storage wherever possible. Round mirrors generally have a maximum storage of 400mm x 400mm. But this is still large enough to store your toothbrushes and face creams to keep your benchtop clutter-free.
Interior styles that best suit round bathroom mirrors
Round mirrors are one of the most versatile shapes, suiting just about every interior style.
Tips to buying a round bathroom mirror to suit your design style:
contemporary, mid-century modern, minimalist and industrial: a frameless or black framed round mirror is your best bet. These interior styles suit pared back design and you can add impact with lighting
coastal or boho: timber framed round mirrors add a natural element that suits this design style to a T
Hamptons, Provincial and farmhouse: these styles suit more ornate and detailed finishes. Look for an interesting frame that can add character to your space, or keep the mirror simple and embrace beautiful wall light sconces as your feature.
The pill shaped bathroom mirror
Blurring the lines between round and rectangular shapes, the pill or oval shape is having its time in the limelight right now. This is the bathroom mirror style Gina chose for her recent bathroom makeover and she's thrilled with the impact it creates.
Types of pill shaped bathroom mirrors
Being one of the most popular bathroom mirror shapes right now, there are plenty different pill mirror styles to choose from.
Pill shaped bathroom mirror options include:
chubby or slim shapes. There's the choice between shorter and wider oval bathroom mirrors or taller and narrower styles. It's important to consider the size of your bathroom vanity, placement of your basin, and ceiling height to determine the best size and shape pill mirror
with or without lighting. Just like with round bathroom mirrors, you'll find pill shaped mirrors that incorporate lighting. Although there are fewer design styles, you'll still be able to find both back-lit and front-lit pill shaped bathroom mirrors
with or without a frame. Rose gold, brass, chrome, black… there's no shortage of frame finishes on the market
with or without storage. And similarly, there's the choice of just a mirror or with a cabinet (aka a shaving cabinet).
Interior styles that best suit pill shaped bathroom mirrors
Although the pill shape is quite a modern silhouette, it still works well in a range of bathroom styles including contemporary, coastal, luxe, farmhouse and Hamptons.
Generally, pill-shaped mirrors are not used industrial or Provincial style bathrooms. But there are always exceptions!
Tips to buying a pill-shaped mirror to suit your bathroom design:
map it out. Given the huge range of sizes and shapes available, it's a good idea to literally map out the mirror you are considering on the wall (masking tape is great for this or if your bathroom is already sheeted, use a pencil on the wall). This is especially important if you are hanging two mirrors above the vanity or your tapware is coming off the wall. See how balanced the mirror/s feel against the other elements in your bathroom and look at how much blank space there is around
remember less is often more. In a bathroom, many elements come together… tiles, bathware, tapware, lighting. So when you create a feature out of everything, the eye doesn't know where to look. It can create the sense of elements fighting against each other rather than complementing one another… hardly the effect any of us want!
The classic rectangular mirror
Once upon a time, the classic rectangular mirror was pretty much the only shape on the market. Fast forward to now and there's almost too much choice! But it's nice to know the rectangular mirror is still a popular option with plenty of design features available to keep it fresh and modern.
Types of rectangular bathroom mirrors
For a shape as simple as the rectangle, there's a surprisingly huge range of design details you can incorporate.
Rectangular bathroom mirror options include:
hard corners or slightly curved. The curve trend has seen a slightly softer version of rectangular bathroom mirrors enter the market. Often called 'Stadium', it's a rectangular mirror with subtle curved edges
with or without a frame. You'll find the greatest choice of framed bathroom mirrors in the rectangular shape. Made from metal, timber, bamboo or rattan, in a flush, picture frame or box frame, there's no shortage of rectangular bathroom mirrors to achieve your design vision
with or without lighting. As well as back lit or front lit rectangular mirrors, there are more unusual versions to choose from. For example, you can find rectangular mirrors with just a bar of light down the face rather than a border edge of light. Or there are even rectangular mirrors with a section of magnified mirror incorporated onto the face that is defined by a LED surround
with or without hidden storage. Yes, technically this is a shaving cabinet! But 'bathroom mirror with storage' is a popular search term so it's worth mentioning
with or without exposed storage. And as if there weren't enough options already, there are now plenty of fab designs that incorporate stylish open shelving and other exposed storage.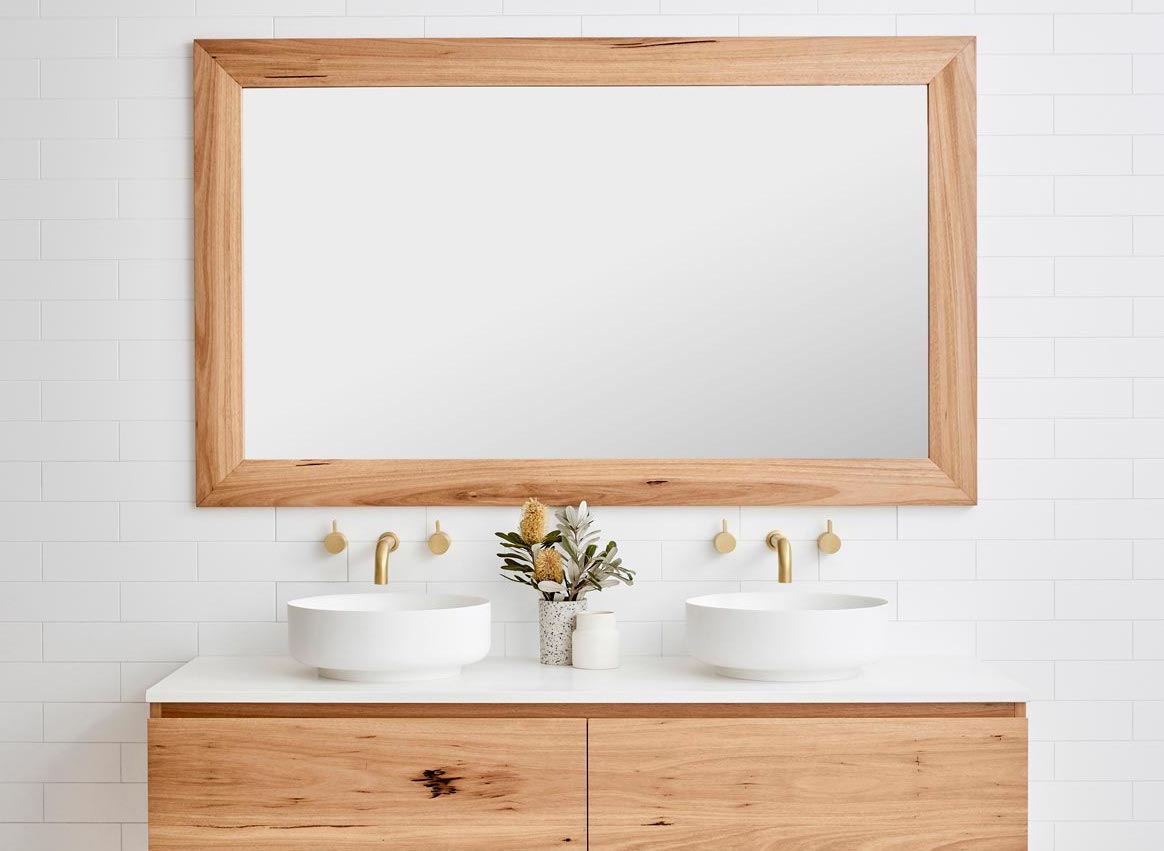 Interior styles that best suit rectangular bathroom mirrors
It's a classic, and a classic for a reason! The rectangular bathroom mirror is a timeless style that suits every interior style.
Tips to select the right rectangular mirror for your bathroom:
contemporary, coastal, boho and farmhouse: these interior styles celebrate nature and natural materials. Consider splurging on a mirror with a solid timber frame, similar to the one above
Provincial and Hamptons: traditional interior styles that love a bit of luxe. A metallic frame, and possibly one with ornate details, will enhance your bathroom design. A very popular option is to hang two rectangular mirrors above a double vanity for even greater impact
minimalist and industrial: a frameless fixed rectangular mirror is an affordable solution that suits these styles. Or for something different, we love that black metal frame mirror below with a small shelf incorporated.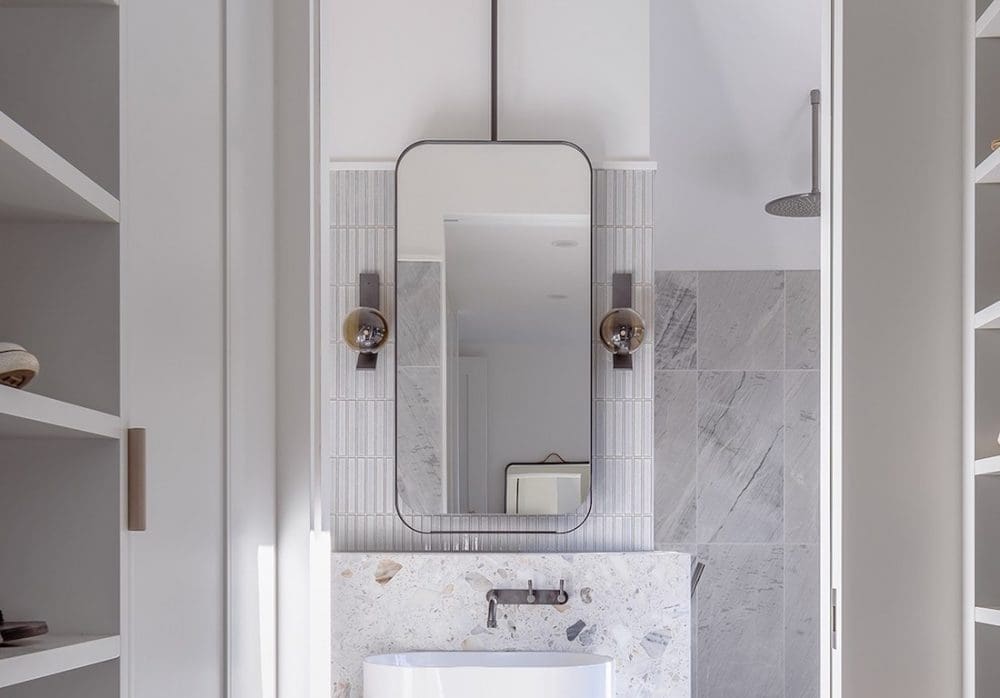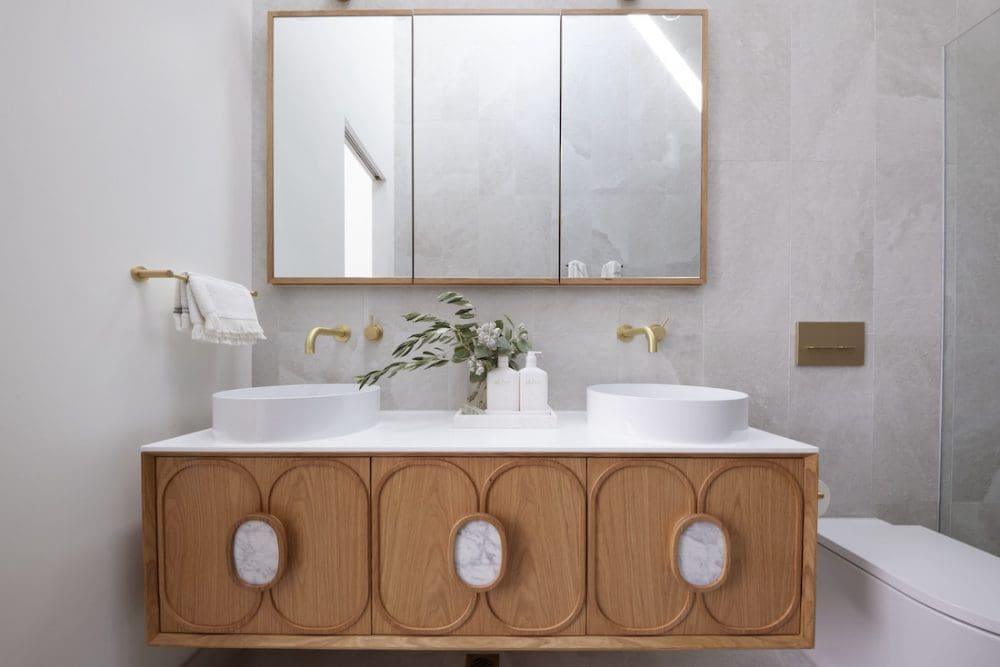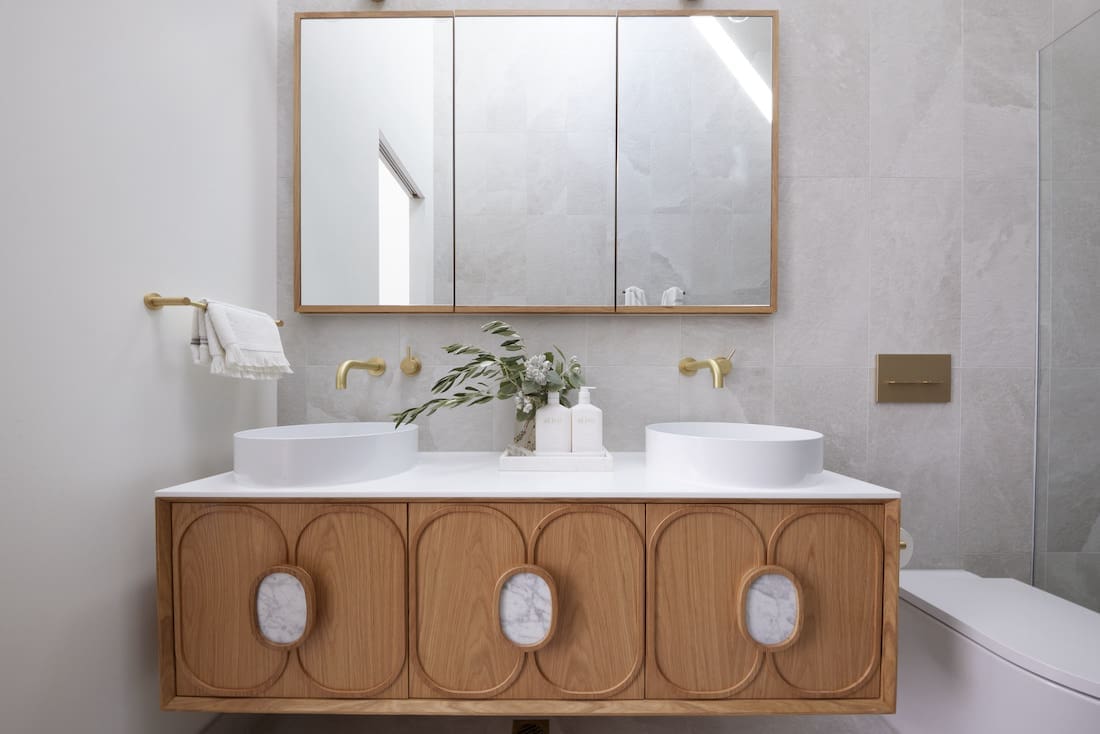 The arch mirror
Another star of the moment in the form of bathroom mirrors, is the arch. Curves are trending hard right now and have been for a while. It's safe to say they're here to stay for quite some time!
Types of arch bathroom mirrors
By this point of the article, it's become clear there's a world of choice when it comes to bathroom mirrors… and arch mirrors are no exception!
Different types of arch bathroom mirrors:
chubby or slim. Similar to pill shaped mirrors, arches come in a range of heights and widths. It's important to consider the width of your vanity and your ceiling height to get the scale right
with or without a frame. For something subtle, a frameless arch is a great option. Or add a frame for greater definition and to possibly pick up on your tapware or vanity finish
with or without lighting. Add ambient lighting to your bathroom with a back lit arch mirror or add more task lighting with a front lit arch mirror
with or without storage. If you're worried an arch mirror means you'll compromise on storage, look for one with a hidden storage cabinet. These can be recessed into the wall or directly mounted onto the wall.
Interior styles that best suit arch bathroom mirrors
We've seen arch mirrors popping up all over the place in many of our recent home tours, as well as on places like The Block. It just goes to show how versatile this shape is, working with most bathroom spaces.
Tips to select an arch mirror to suit your bathroom style:
consider matching your arch mirror to your vanity. To give your bathroom a cohesive feel and designer touch, use an arch mirror that has a frame in the same material or colour as your vanity. This is a great idea in minimalist bathrooms where the same tile is used on the floor and walls as it anchors your vanity and mirror in the space. Or if you have an unusual vanity colour, such as the terrazzo bathroom below, you could get your frame powdercoated to exactly match
look for other opportunities to reference the arch shape. Without going overboard, it can look great when arch shapes are used in more than one way in the bathroom. For example, in the Three Birds Renovations below they incorporated an arch niche and in the pink bathroom at the start of this article, they used an arched shower screen.
The organic shaped mirror
Life doesn't have to follow the rules and neither does your bathroom mirror. To add a bit of interest into your space, why not try an organic shaped mirror? They're fun, unique, and something a little bit different.
Types of organic shaped bathroom mirrors
So what exactly is an organic shaped mirror?! It's a shape with curves or edges that don't follow an exact style or form. Sometimes referred to as pebble or pond mirrors, they celebrate asymmetrical shapes.
Different types of organic bathroom mirrors include:
small or large sizes. Just scroll down to see the diversity of shapes and sizes on the market. Some are more rounded, others more oval. Some organic mirrors are just the right size for a powder room while others are suitable as a main bathroom mirror
with or without a frame. Frameless, metal or timber frame… keep an eye out as even more styles enter the market
with or without lighting. Back lit for a soft glow or front lit versions of pebble mirrors are available
with or without storage. Larger organic mirrors can have a small shaving cabinet behind, giving you that little bit of extra bathroom storage.
Interior styles that best suit organic shaped bathroom mirrors
When choosing an organic shaped mirror, it's often going to be THE statement piece of the bathroom. So it's best to keep the other elements of your bathroom design restrained.
Tips to pull off an organic bathroom mirror:
day spa vibes. One bathroom style that calls for organic bathroom mirrors more than any other are those that channel day spa vibes. Think bathrooms with a soft, tonal colour palette, such as the stone or venetian plaster bathrooms below
tie it in. Because these mirrors are so different, it's a good idea to find ways to integrate it into your bathroom design. For example, the black metal frame organic mirror below picks up on the black steel frame of the basin. And below that, the stone basin has been carved in an organic way to reference the frameless pond mirror.
Antique bathroom mirror
With the rise of traditional interior design styles, such as art deco and Provincial, we're seeing a resurgence of more ornate, antique bathroom mirrors.
Types of antique bathroom mirrors
When it come to styles of antique bathroom mirrors, the world is your styling oyster. Gold gilt frames, vintage chain details, etched designs and chunky ornate frames are some of our faves.
Different types of antique bathroom mirrors:
various metallic finishes. Aged brass, nickel, silver, bronze or gold… there's no shortage of vintage bathroom mirrors to choose from
mirror shapes. Rectangular antique mirrors are the most readily available, however oval, arch, scalloped and other antique silhouettes can also be found
bevelled or flat face. Something that sets antique mirrors apart is that they can often have a bevelled frame. This is where the edges of the mirror taper downwards to add a further decorative element, similar to the mirror below.
Interior styles that best suit antique bathroom mirrors
There are no hard and fast rules, however we'd say it's best suited to traditional style homes, such as period houses (like art deco, Edwardian or Victorian) or farmhouse or provincial style homes.
Tips to pull off an antique bathroom mirror:
allow it to be the showstopper. Generally these mirrors make a big statement so pare back your other elements to allow it to shine
be wary of cheap replicas. When going down this design route, it's worthwhile seeking out an original or high quality reproduction… cheap replicas will simply look cheap and bring down your design vision
give it space to breathe. A statement piece as bold as an antique mirror needs 'breathing room'. By this we mean, blank space around or neutral finishes that won't compete with the character of the mirror.
The art-inspired bathroom mirror
For those with a passion for art and who like things a little more eclectic, perhaps your bathroom mirror could be a piece of art?
Types of art-inspired bathroom mirrors
This final category of bathroom mirrors is particularly broad. So let's just say if it's art and it's mirrored… it counts! Things like this cool as 3D illusion mirror, or the 1930's inspired art-deco trio mirror from The Block.
Interior styles that best suit art-inspired bathroom mirrors
A bathroom in a modern, elegant style home would love an art-inspired mirror! Think contemporary homes, art-deco, luxe and eclectic spaces.
We hope this article has given you some ideas for what bathroom mirror to buy. If you have any questions on how to choose the perfect bathroom mirror, we'd love to help! Drop us a comment below and we'll be sure to get back to you.
Disclaimer: This post contains some affiliate links. This means that when you click on a link and purchase something from that site, we may make a small commission at no extra cost to you.