Supported by TEMPUR
I recently gave my bedroom a makeover and I've got to say, it feels so good coming home and having a space to unwind… that's mostly free from kids toys and all the other chaos of life!
It took a few goes to get our bedroom 'right' though and I know many people I talk with feel that their bedroom needs tweaking so today I'm sharing my top ways to create a sophisticated master bedroom.
1. Decide on the feel you want to create
You know I say all good styling starts with a plan and for me the most important thing in a bedroom is the atmosphere you want to create – do you want a warm and moody vibe or perhaps you prefer bright and airy?
Everyone's idea of a sophisticated bedroom will be different. While some of you love the natural elements of a coastal interior style, others will lean right the other way to a hotel luxe style with a darker palette and pops of metallic.
There's no right or wrong style to choose – it's whatever will make you feel happy and comfortable.
If you struggle to identify the feel or style you want to go ahead with, check out these tips about creating a mood board.
Once you know this, all the other decisions, such as picking a colour palette, will be so much easier!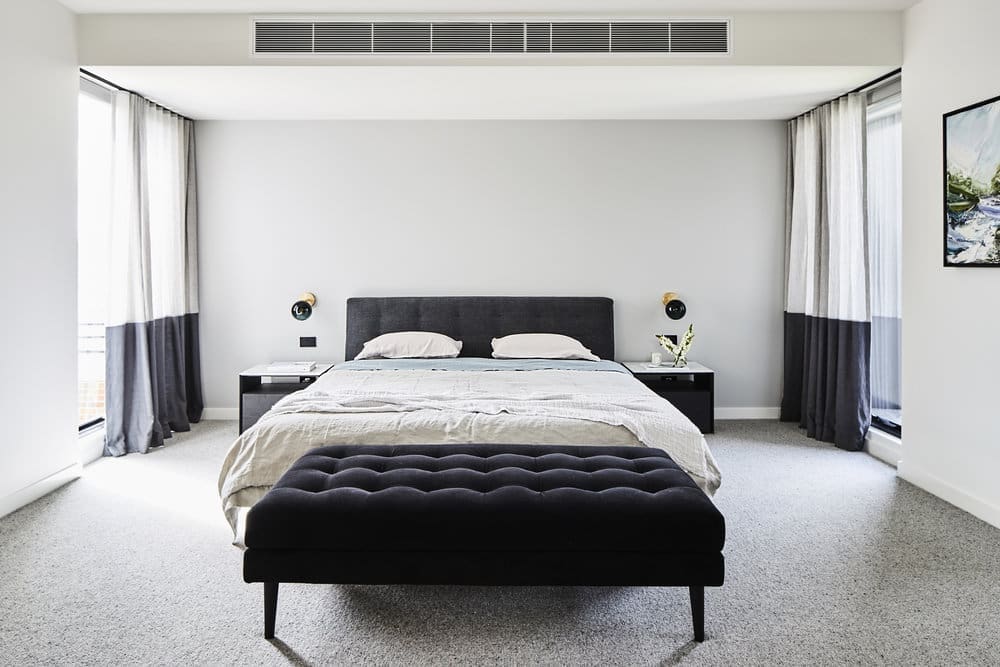 2. Strip it back to basics
Before going on a shopping spree and treating yourself to new bedding and décor, I suggest you look at the shell of the room and get this right first. By that I mean floors, walls, window coverings and lighting.
It's difficult to change any of these things with furniture and items in the room so box it all up and move it out, please.
While you're at it, take the opportunity to declutter or streamline what you own. As Neale Whitaker says 'Luxury should never feel cramped' so before you box it, ask yourself if you really love or need the item or if it would be better to gift, donate or sell it.
3. Wall colour
When decorating, there's no better way to get bang for buck than with paint!
A new colour scheme has huge impact and even a fresh coat of paint in the same shade can instantly transform a space.
The paint colour you choose will come down to that first point about the mood you want to create. If you're leaning towards a moodier bedroom, a darker wall colour is the way to go!
On the other hand, if you want your bedroom to feel bright and airy, a crisp white is the perfect base to begin with.
And if you feel like being a bit daring and introducing a colour, we share how to select a paint colour for the mood you want to achieve.
Painting your bedroom is an achievable weekend project and we share all the tips on how to paint like a professional here otherwise it isn't a huge expense to hire someone to do it for you.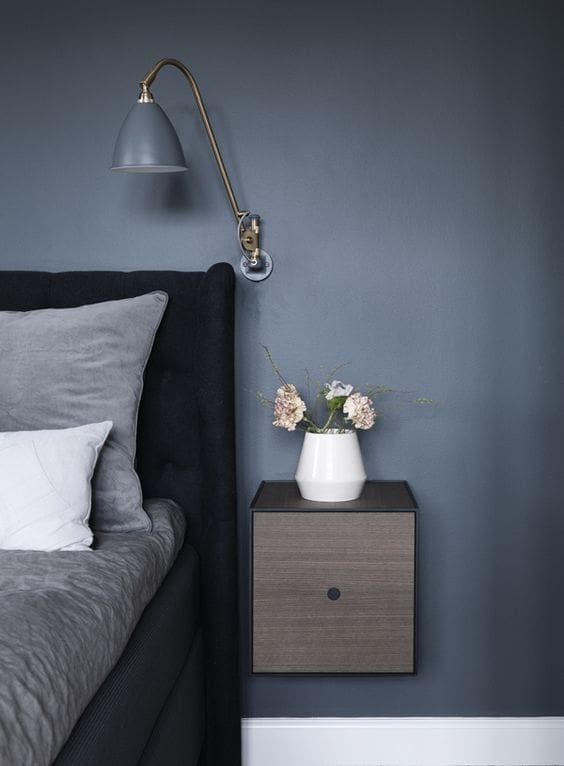 4. Flooring
Often one of the first things people look at when entering a space is the floor so how does your bedroom floor look?
Unfortunately, flooring is a lot more expensive to replace and often can't be DIYed.
You may need to put new flooring on your wish list for later but if budget allows, it would certainly be a great investment if your bedroom needs it. Personally, I love carpet in a bedroom as creates a quieter space and insulates well, and it's nice to step out of bed onto the softness of carpet. Alternatively, timber floors with a large area rug under the bed is another great option.
We've written a comprehensive guide to selecting the right flooring for your home here.
If your bedroom flooring does need replacing but budget doesn't allow, you may like to consider using a rug for now. A large area rug can draw the eye away from unsightly flooring and is an affordable interim solution. Here are our favourite places to shop for large-scale rugs.
5. Window coverings
Look at inspiration photos of sophisticated bedrooms and one thing they all seem to have in common is sheer curtains!
Regardless of interior style, it seems this is the ultimate window covering to choose.
A close second are plantation shutters, which suit a range of styles from contemporary to coastal.
There are so many window covering options on the market nowadays though which is why we created this guide to picking the right window treatment.
Because window coverings frame the main light source in your room, our eyes are naturally drawn there and out of date or broken window covering can really bring down the rest of the space. It's more affordable than ever to update your window coverings and this is another achievable weekend project you can do yourself – particularly when you get them custom made to fit!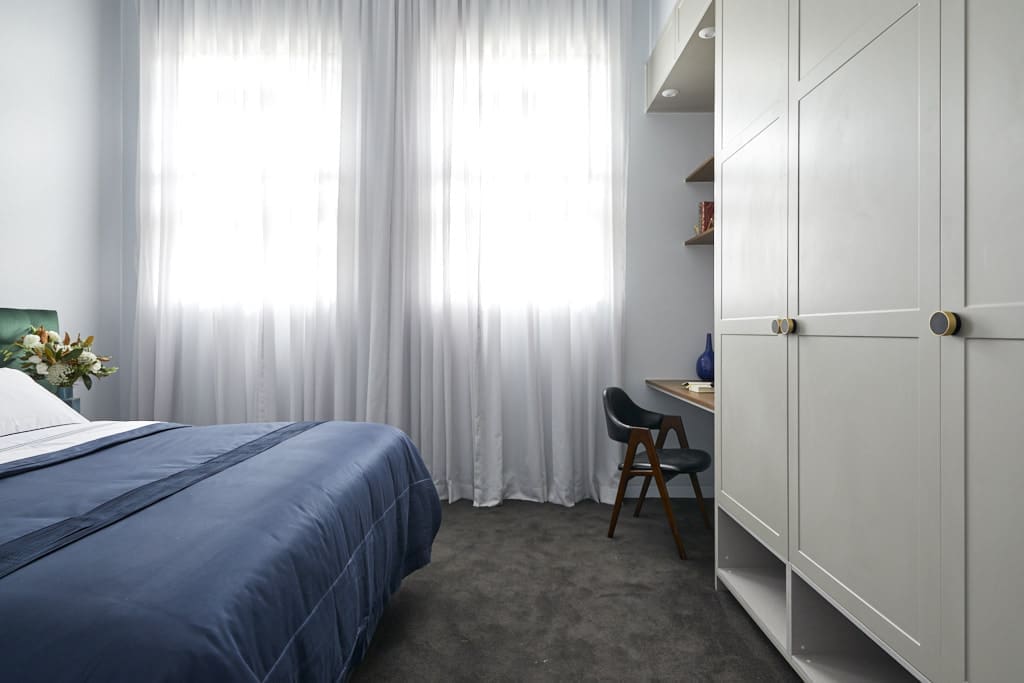 6. Lighting
The final element of getting the shell of your room right is lighting.
Fluorescent lights or out of date oyster lights won't do you any favours!
For a luxe bedroom pendant lights, beautiful bedside lamps or wall sconces are better choices. Adding dimmers so you can control the amount of light is also a great idea.
7. The bed
Once you've got the fundamentals of the space right, it's time to look at how we fill it, starting with the largest item – the bed. There are two big decisions here – the bed frame and the mattress.
This is one corner I tried to cut in my recent bedroom makeover but it didn't work. Although I added loads of new décor, art and bedding to create a more luxe feeling space… getting into a lumpy bed at night totally cancelled out that effort. So the other week my hubby and I bit the bullet and made the investment of a new mattress.
Having researched mattress options a lot for the blog, I was aware of the main options on the market – latex, memory foam, pocket spring or TEMPUR. And after a reader told me that she bought a TEMPUR mattress after my article about making your bedroom healthier and absolutely loving it, I was eager to test them out. Unfortunately for my bank account, hubby and I both agreed it was by far the best mattress we'd ever tried so that's the one we bought but honestly I've never slept better!
If your mattress is uncomfortable or doesn't support your sleep, treat yourself to a new mattress ahead of aesthetic improvements — it's an investment into your health and ultimately the best luxury you can give yourself.
The other big decision when it comes to the bed is the frame (this is still on my wish list). If your bed doesn't fit the style you want to achieve, as the biggest furniture item in the space it's the one I'd look to replace or upcycle first. We share some of our favourite places to buy stylish bed heads here but there's a lot that can be done with paint and creativity so you may be able to breathe new life into your existing bed.
8. Bedding
One of the most fun things about any bedroom makeover is shopping for bedding!
Natural materials such as linen or luxury cotton are my choice for creating a sophisticated bed – especially when paired with heavier weight materials like velvet.
It's easy to change the look of a neutral quilt cover with cushions, coverlets and throws so consider buying a simple, high quality quilt set in a white, oatmeal or soft grey tone that you can continually style in different ways.
9. Other bedroom furniture
Now that the bed is done, look at the other furniture in your room.
The days of matchy-matchy bedroom furniture are over. Be bold and look for individual pieces that fit with your style — some common elements, such as light timber legs, will create cohesiveness.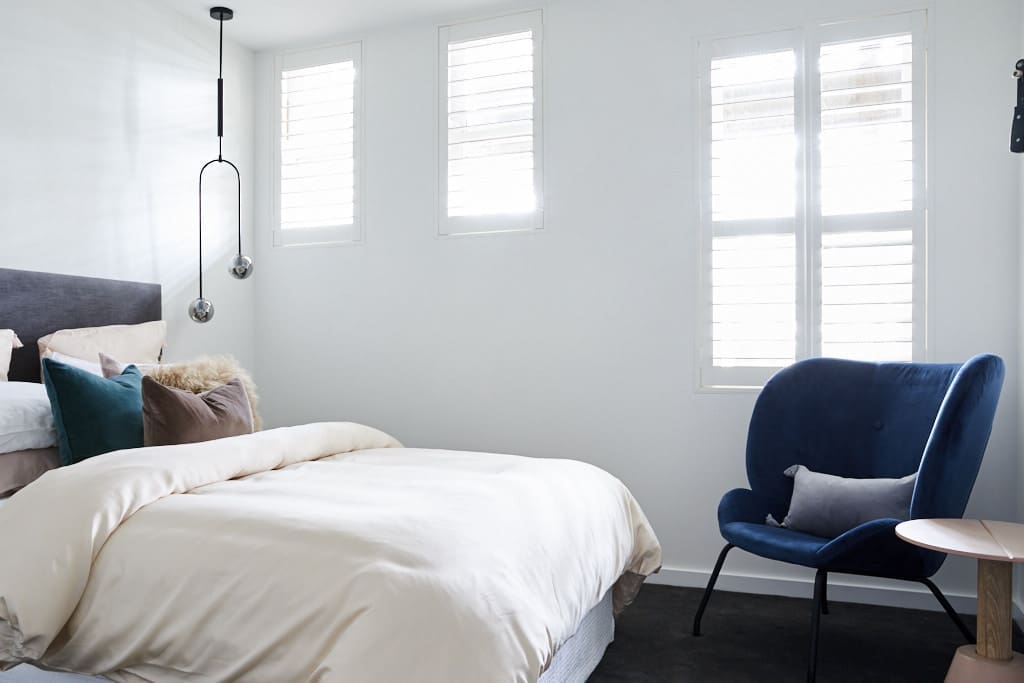 10. Décor
The last stage, and my favourite, is adding that final layer of style.
Artwork on the walls, decorative items on the bedside tables and other surface areas, and perhaps a rug too will bring your new style direction to life.
I love the impact that a new accent colour has in a space so consider picking one or two colours to use and create pops of these across the room, such as in the artwork, feature cushion on the bed, vase on the bedside table and pot plant in the corner of the room.
Rather than simply shopping for decorative items that catch your eye, look through the inspiration images you gathered under point 1 and make intentional choices for pieces that fit your version of a sophisticated bedroom.
Has this article inspired you to give your bedroom a makeover? We'd love to know what points you're going to use by telling us in the comments below!