Tweens… that stage where she's no longer a little kid but not quite a teenager (although attitudes and hormones may disagree with us here 😉 ). And styling a tween girl bedroom can be a little challenging.
So the question is, how do you decorate a pre-teen bedroom for a girl? We've searched high and low for plenty of ideas, tips and inspo to help you give her the bedroom of her dreams.
Chasing some tween boy bedroom ideas? That's coming soon to the blog soon. Pinky promise!
Related article: How to style a shared kids bedroom: Inspo for shared room ideas
Related article: Gorgeous girl's bedroom inspo: Peek inside Christie's big girl room by Wool and Willow
Floral fun
Is there any girl who doesn't love flowers?! And why stop at one floral influence when you can use two types of floral wallpaper, floral bedding, floral artwork, floral decor… and well, you get the picture! Krystal recently creating this oh-so-stylish shared kids bedroom for her daughters and safe to say it's any tween girl's dream!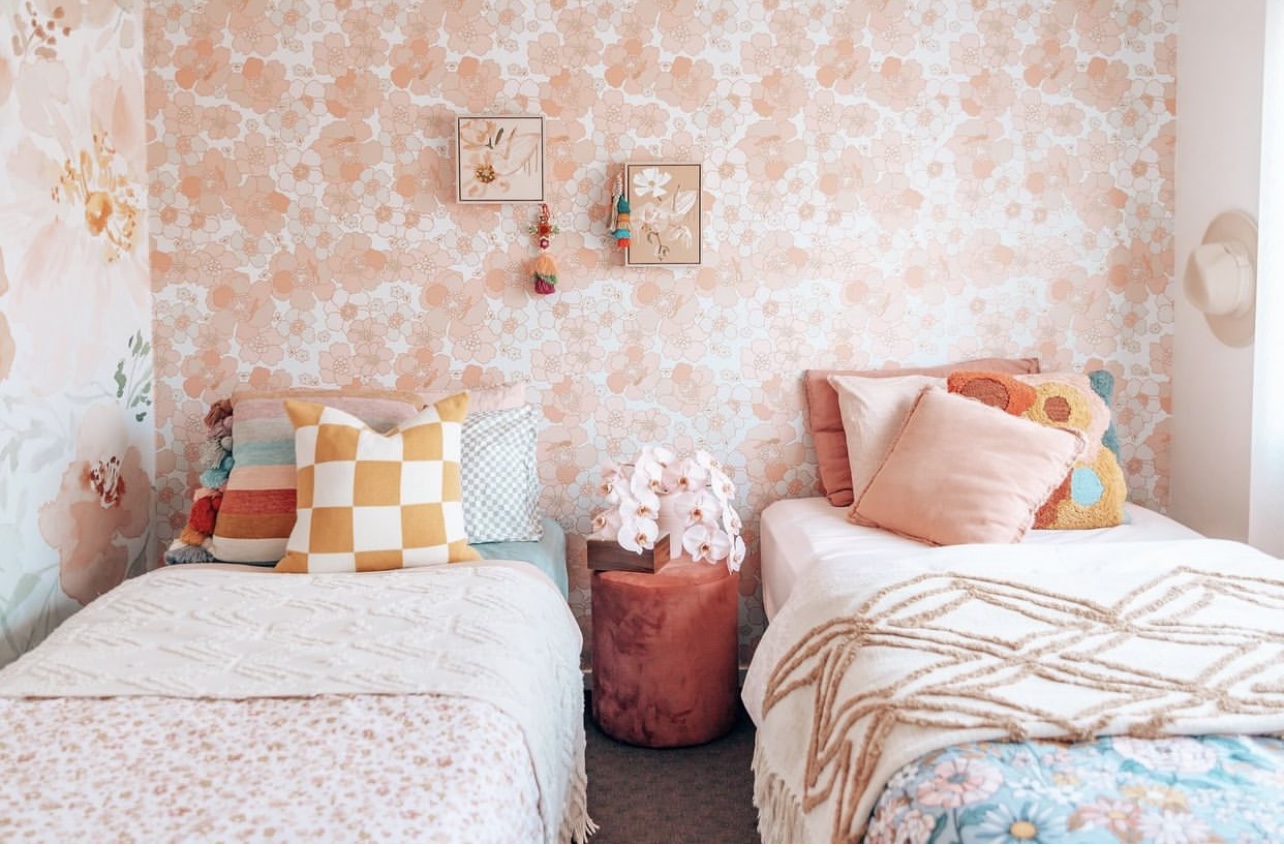 Trending terrazzo
Terrazzo has been a fave of ours for years. But to see it in wallpaper in a tween girl bedroom? Obsessed! It works perfectly in this space from Luke and Jasmin (from The Block). We love the timber shelves and soft tones in the bedding and cushions that link together with the flecks in the terrazzo.
Looking for a similar wallpaper? Etsy has a fab selection to choose from.
Coastal chic
With its neutral coastal vibes, this space is perfect for a tween girl. There's just a touch of colour to stop it from feeling too stark, and we adore the half-height panel detailing.
The other walls feature lineal panelling (or shiplap if you're an American reader!). A few touches of cane through furniture and decor, and this is the perfect example of coastal chic!
Eclectic and joyful
If your tween loves colour but you're reluctant to dive in head first with paint, consider this… a bold and beautiful bedhead. We love the peacock design as it makes a serious statement. And in pink (or her other favourite colour) it's a splash of brightness without taking things too far.
Tonal togetherness
With its muted dusty pink colour palette, rattan curves and that cool as cactus, this tween bedroom from Our Hutley Home is one for your Pintrest board.
By tying together the soft colours from the artworks, bedding and decor pieces, it's cohesive and ridiculously stylish.
Stylist tip: Two of our favourite ways to establish a colour palette for a room are by using artwork or a rug, such as a Persian rug with harmonious hues. Rugs not only introduce an element of elegance and cosiness to a space, but also enhance a room's overall aesthetic appeal.
Light it up
The cluster of paper lantern pendant lights is what makes this space for us. Such a simple, affordable option to make a bedroom extra fun.
We also love the half-height purple wall — this tween's fave colour — which adds colour without making the room feel dark (or, just way too purple!).
Hamptons for kids
Let's be honest. Beds don't get much cooler than this. Those criss-cross details not only give it that beautiful Hamptons vibe, it's also practical and safe — win, win!
The subtle pops of colour, cane accents and use of texture style this space to a T. So chic!
Safe haven
We can't think of a single kid who wouldn't want this cool as feature in their bedroom. If you have the ceiling height, why not make use of otherwise un-used space and add in a special seating cubby?!
Sure, you could make it into extra storage, but we think this idea would get you heaps more parent brownie points! We would advise adding a safety barrier though!
Boho beauty
If coastal boho style is her vibe (or yours!) then she's going to love this space. It's simple, but utterly dreamy. The wallpaper is super subtle, adding interest without being OTT. It's also removable so is perfect if you're renting or if she's known for constantly changing her mind!
Curves in all the right places
Judging from the toys, we're pretty sure this is a younger child's bedroom. However, we were so inspired by that stunning bed head, we simply had to include it!
It just goes to show how great style can age well. The double-walled curved bed head is divine and the mossy green colour adds to the sophistication of this space.
Tropical inspiration
At first it was that unique woven leaf bedhead that grabbed our attention in this tween space. And then we spied the hanging macrame shelf and that quirky pineapple mirror!
Talk about a bedroom with a tropical personality!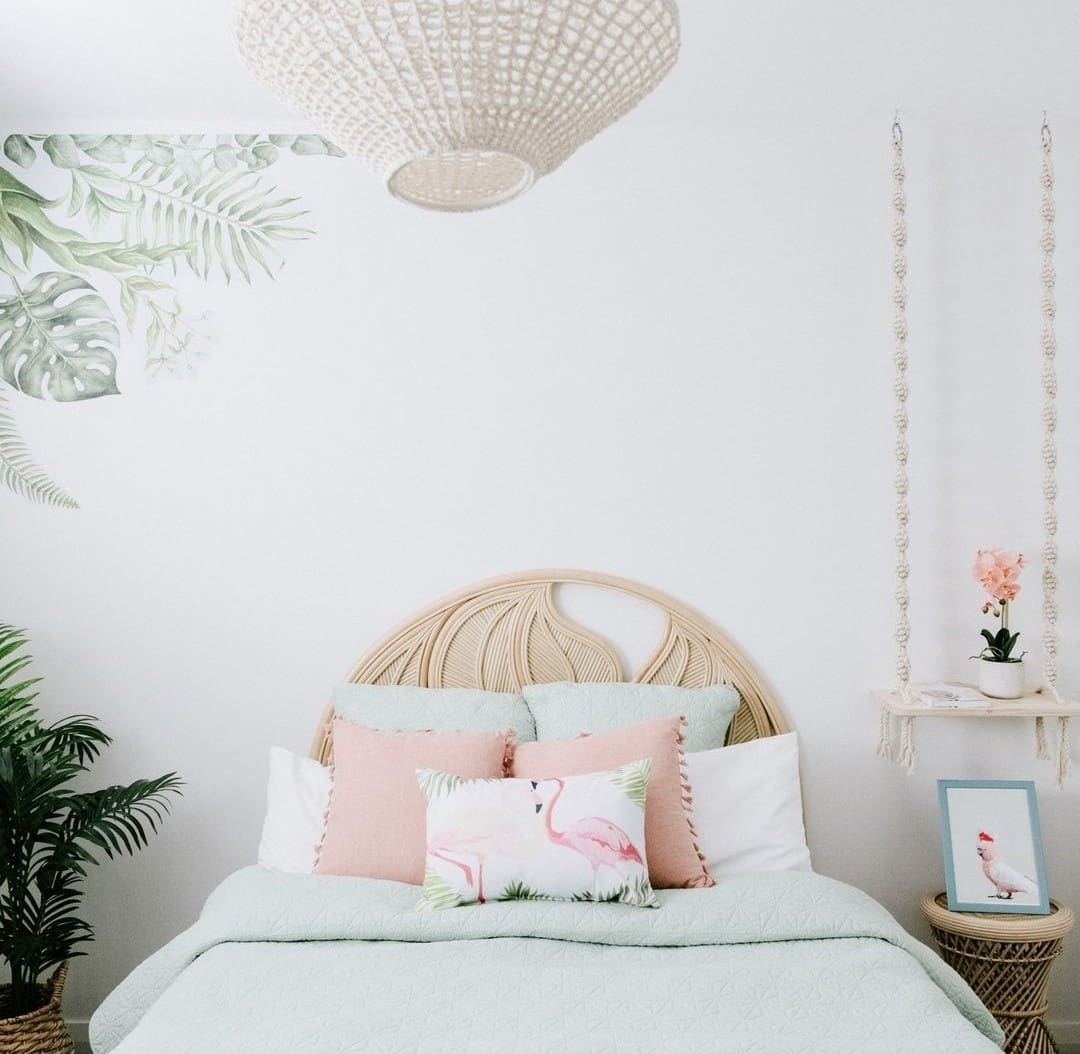 Colour-pop fun
How's this for fun?! This tween girl bedroom from Luke and Jasmin (former contestants on The Block) knocked it out of the park with this one!
The spotty wallpaper (likely inspired by this infamous room of theirs!) together with the colourful artworks and epic colour-pop bedding is a total vibe.
And if you're loving those round wall lights, we've got a DIY on how you can make your own!
Scandi chic
On the opposite end of the scale, is this space we'd call Scandi cool.
All in all, it's pretty neutral. But that doesn't mean it lacks character! We love the built-in bunk bed and instead of the usual second bed underneath, it's been replaced with a stylish study space.
Sleek teen styling
Apparently this space was designed by the teen herself. Wow! We wish we'd been that stylish at the age of 14. Hanson and Spice Girls posters anyone?!
Yes, this is probably more of a teen room than a tween room, but you've gotta admit, it's gorgeous. It was an absolute must to make our tween girl bedroom inspo gallery!
Hang out space
If you can't do a full bedroom makeover, just a special something could be all you need. Like this hanging chair — the coolest thing to have in a tween bedroom, wouldn't you agree?!
This bedroom from Lana's forever home is simple but divine. The timber louvre wardrobe doors are our ultimate love, reclaimed from Gumtree! But if you're a tween, surely it's gotta be that epic swinging chair!
Sophisticated queen
With more traditional design styles gaining popularity in Australia, we had to share this tween bedroom! Classic design elements have been given a quirky twist, such as those candy pink and tassel eyelet curtains. It's a great example of how to create a space that will grow with your child — keeping the main elements neutral, such as the wall finish and bedroom furniture, and adding fun through textiles, artwork and decor.
Neutral beauty
We're not sure if this is 'meant' to be a girl's room or a boy's room but whoever it's for, we love it. The lower half has simple but gorgeous panelling and the upper features tropical wallpaper 'Aloha Palms' from Boho Art & Styling. It's utterly divine!
Sweet tween
This space feels a little on the younger side but we love it all the same. It's so beautifully styled with the beaded pendant, woven cane bed and juju hat wall hanging.
A few tweaks here and there will see this room mature just as beautifully as she does.
Going dotty
It's hard to go wrong with spotty wallpaper. It's sweet, but still cool (although by us saying it's cool, does that immediately make it uncool?!).
A colourful rug, some texture in the bedding and this one's a winner.
Arches and gingham
Aches are having a serious moment. And so too is gingham! So to combine the two, it's a match made in heaven. We suggest going for a removable wall decal which can be switched around if she takes after us and wants to re-work her room with every seasonal change 😉
Painted panelling
Panelling is a sophisticated way to add interest and texture to your walls. Add a splash of colour and a few items to honour her current obsession (horses seem to be a popular choice!) and you're up for a gorgeous space she's sure to love.
Flower power
Not for the faint hearted, this is one way to go bold in a tween bedroom! And while there's lots of colour going on, each colour can be traced back to the floral wallpaper feature wall.
Just to note, this room is likely to date faster than a neutral space so removable wallpaper or decals might be a clever choice to consider.
One for the budding artist
If your tween has an artistic streak, perhaps this is more her style? Whether you frame her very own artistic creations, or allow her to choose some of her own (here are our fave places to shop for affordable art) a gallery wall is a fabulous way to create a unique bedroom space.
Love is in the air
Sometimes it's just that one decor piece that brings a whole space together. We love this simple love heart wall hanging — or perhaps mirror — that just makes this space special. And it just goes to show, less is often more.
If you want to DIY something similar, why not try using our love heart wall light tutorial?
Was this tween girl bedroom gallery helpful? Has it given you some ideas or inspiration to give your pre-teen's bedroom a makeover? And which was your fave space? Tell us in the comment section below!
Disclaimer: This post contains some affiliate links. This means that when you click on a link and purchase something from that site, we may make a small commission at no extra cost to you.