When it comes to staging a property — whether it's for sale or for accommodation websites — first impressions count! We guarantee the effort you put in to preparing your property will pay off — if you shop wisely and follow our tips on how to style your investment property.
While there are professionals who offer full property styling services (generally starting at $6k), this often isn't an option for people who have already overstretched themselves financially to renovate or are styling the property to see a greater return on investment.
Related article: A beachy luxe Byron Bay Airbnb where everything is Instagram-worthy
Related article: The Jetty House: Beachy vibes and breathtaking views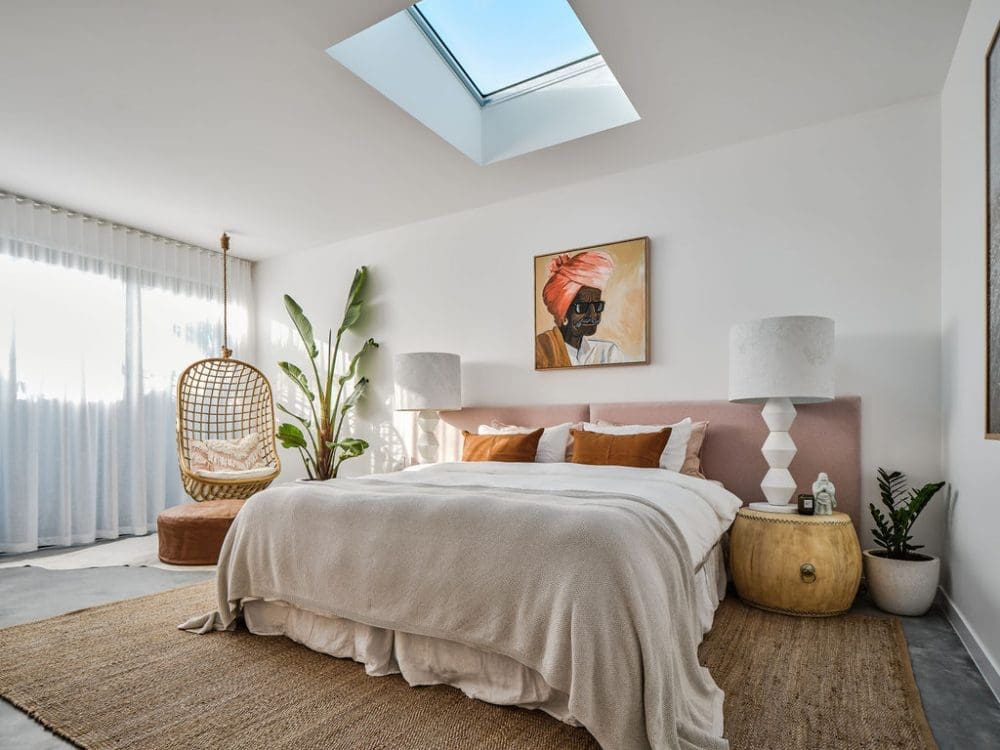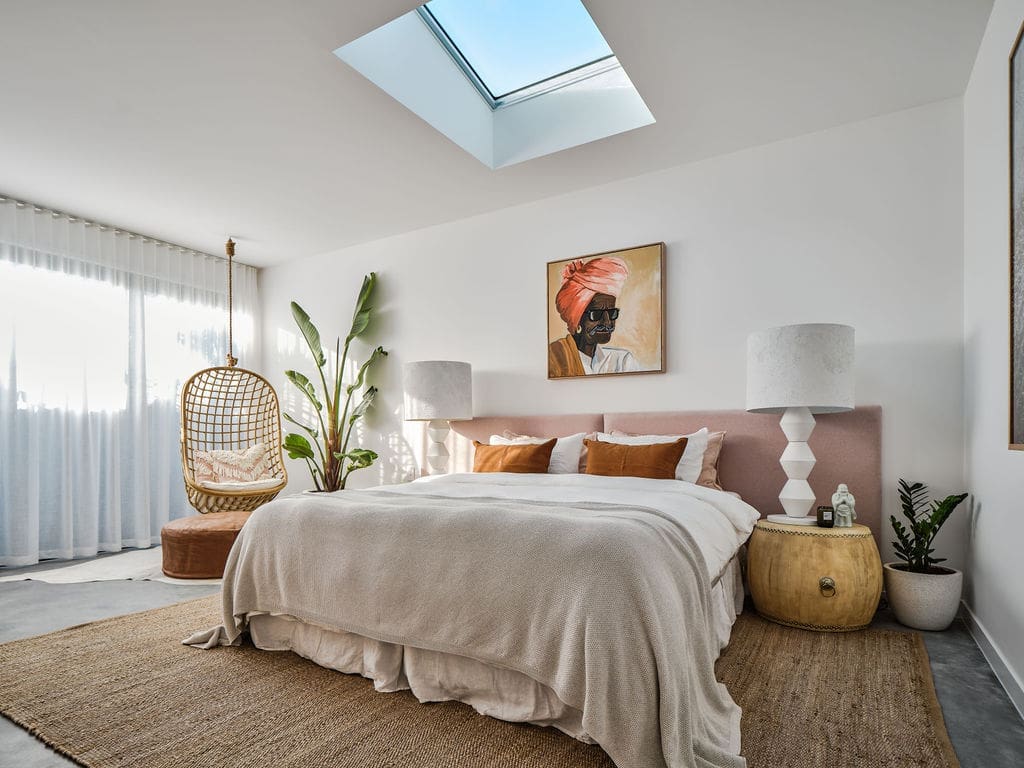 1. Assess the property and make a list of priorities
When it comes to styling an investment property, the aim of the game is create a warm and inviting space — and to do this with a modest budget as every dollar spent should see a return on investment.
It may not be possible to make all the changes you want to initially which is why we always start by doing a walk through to identify your priorities. As you walk through, ask yourself: is there anything that looks damaged and needs repair, any furniture that desperately needs changing, or any areas that look void or cold?
On a recent investment property we styled, the list of priorities were:
a rug in a neutral colour to create a living room zone and soften the heavier furniture pieces
new artwork that felt less 'hotely' and more contemporary/abstract
new cushions in a colour palette to complement the artwork
relaxed outdoor seating nook to maximise the terrace and hide an unsightly heating unit
smaller décor to create vignettes for appealing Airbnb photos.
The list of priorities for each property will be different. Perhaps you window coverings are dated and depressing, or the furniture is in desperate need of replacing. It may help to take an unbiased friend on the walk through with you who can point out what stands out to them.
2. Create a mood board for the property
Whether you're starting from scratch or need to work with existing furniture/wall colours/other fixed elements, it's always a good idea to create a mood board to see how all the elements work together.
A mood board helps you avoid costly mistakes — if it doesn't work on the small scale of a mood board, it won't work in real life — and to save you time exchanging items or having to shop again for pieces that work.
Creating a mood board will also help you hone in and refine the style for your property, helping to create a cohesive space that will appeal to potential renters or holiday makers.
You can find all our tips on how to create a mood board here and see how easy it is to create a digital mood board here.
If you're unsure where to start when selecting the style, you may like to take our style quiz here or take a cue from the property — does it lend itself to a particular design style? Flat roof homes work well with mid-century modern styling, or those with breeze blocks lend themselves to coastal styling.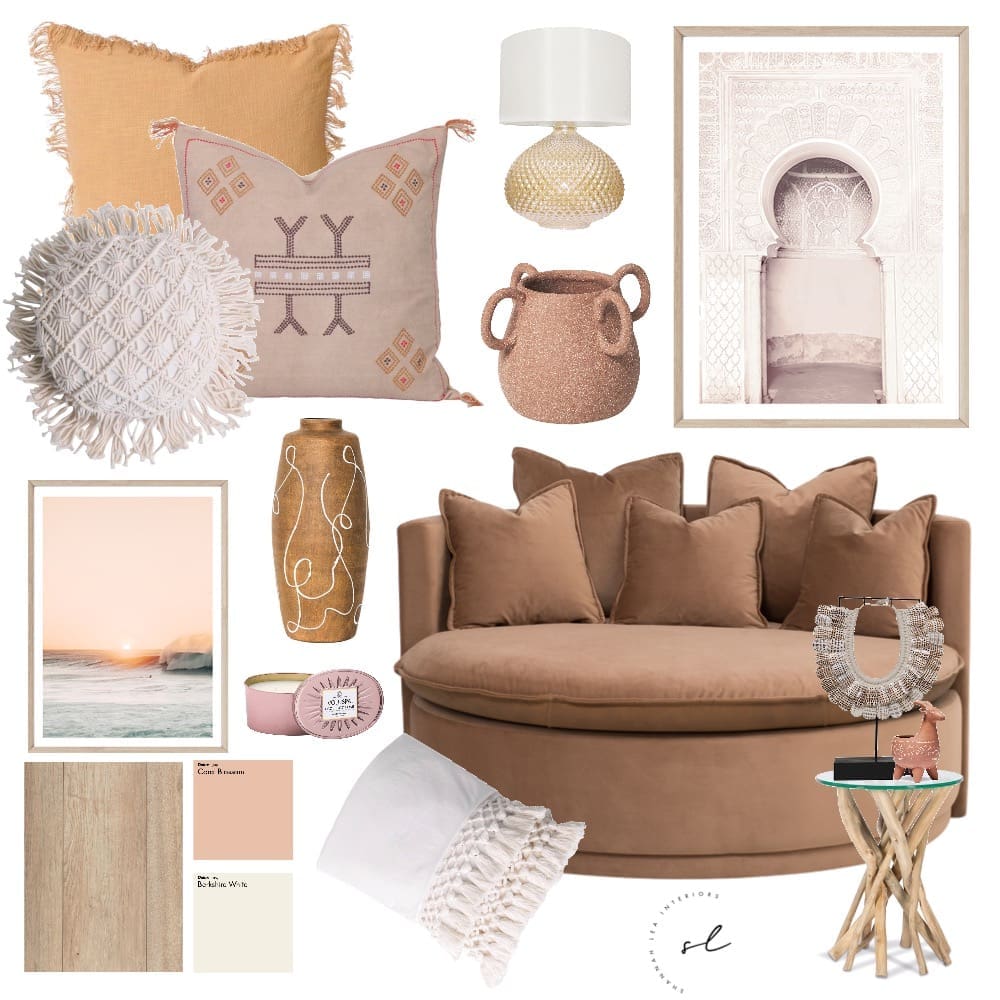 3. Shop wisely
When you hit to the shops, it can be easy see great buys and just start pulling out the credit card… especially when you go to stores like Kmart and a $30 chair, $20 lamp, and $10 cushion are just so cheap!
Stop. Think again.
Your budget can disappear in no time if you take this approach and you may end up with items you don't need so work with a plan.
Do the rounds at shops and look online for pieces that suit the new style direction you set when you created your mood board.
Often we'll find a luxe and a less version of each item we're considering buying, noting down pros and cons of each. For example, a luxe dining table may be made from solid timber whereas the less version would be laminate. Having these options will help you to lock in choices that fit your budget and style.
4. Get creative
If you've got the time, it pays to get scrappy and hunt around for deals. Facebook marketplace, eBay and Gumtree are just a few places where you can find some great buys.
We also love taking a look at op-shops to see if there's any furniture that could be upcycled or cool, one-off pieces of decor we could use to furnish the space. This was a tip Carlene gave when we recently toured her stunning home.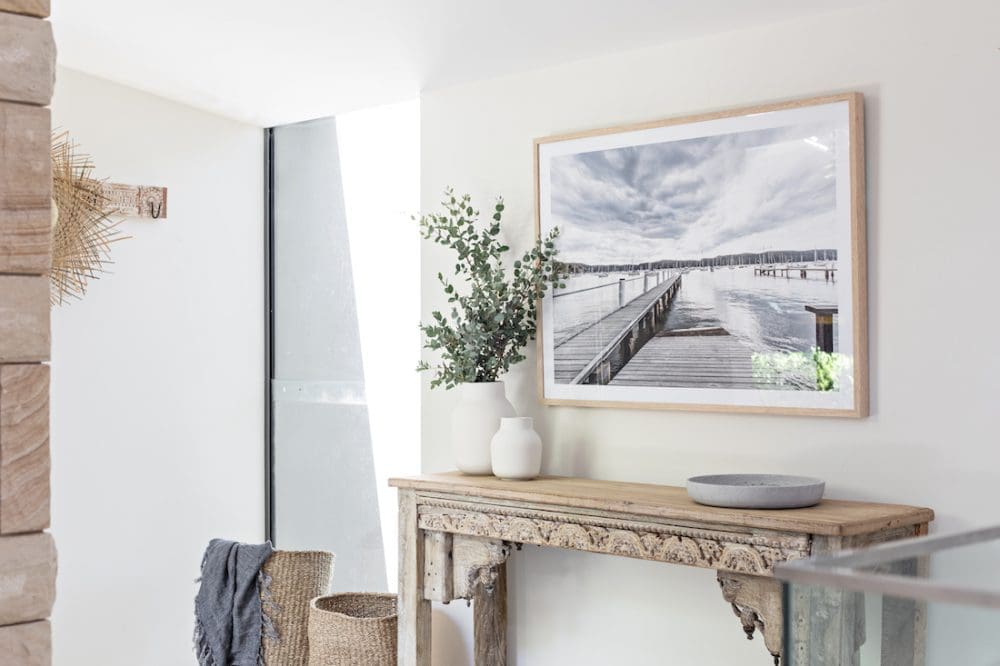 5. Look for items that can bring warmth and texture
To make your investment or Airbnb propoerty as inviting as possible, you want to look for pieces that can bring warmth and texture — think natural timber, organic textures, and objects that add 'life'.
Unless you have someone maintaining your property regularly, it won't be possible to use real indoor plants and even candles may be ruled out. Instead, look for long life options such as dried floral arrangements, coral decor, driftwood timber wall hangings or artificial plants. Using some ceramic vessels with an organic texture is another way to bring warmth to your styling.
6. Layer up
A styling trick to add warmth to any space is to use layers.
Floor rugs define zones in open plan spaces and add softness. Draping a throw rug or sheepskin over a sofa or bench adds cosiness. Even using layers with your vignettes (see our next tip) such as placing items on a tray or using a stack of books as a base is another way of adding layers to your styling.
When done right, layers make your styling more sophisticated, luxe and inviting.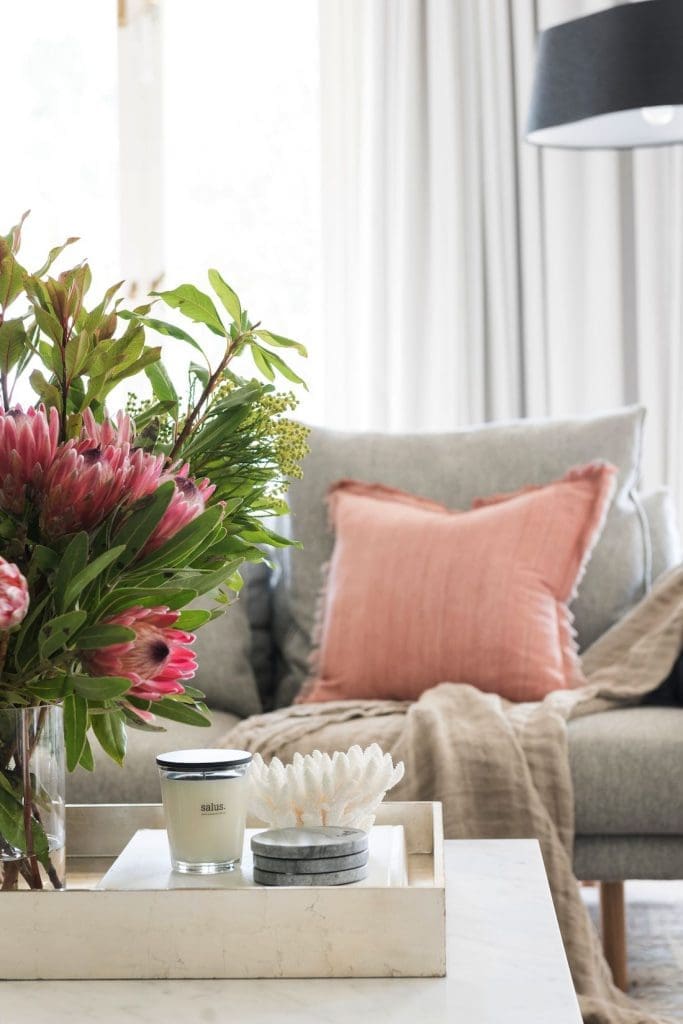 7. Create vignettes for interest
Something that can separate your investment property from the rest are styled pockets or vignettes around the space. They tell a story and can tie the whole picture together.
You can add a vignette to almost any room of the home. For example, in the kitchen you can layer chopping boards with the soft texture of a tea towel and different height vessels. In the living room, you could pair a couple of indoor plants, candle, crystals or other pieces of decor. On the bedside table, a beautiful table lamp, modern clock, ceramic vase and dish are just a few objects you could use.
8. If space allows, create a dreamy nook
This tip is especially important if you're positioning your property as a holiday house. Give guests somewhere they can curl up with a good book and unwind. A hanging chair or cosy bench seat is always a winning idea. Whether it's indoors or out, look for somewhere to create a dreamy nook your guests will love.
Looking for help on finding the perfect investment property? Consider using an investment property mortgage broker like Get a Better Rate to help you secure the right asset to suit your financial wants and needs.
We hope these tips have given you a few ideas on how to style your investment property. Do you have any other tips to add? Share them in the comments below!
This article was first published in August 2017 and continues to be updated with latest information.