Unless you've been living under a rock, you've probably noticed that curved interiors are having moment. From arched doorways, curved home exteriors to pill-shaped furniture and decor, they're everywhere and we're loving it.
We take a closer look at this trend and show how you can incorporate them in and around your home.
Related article: A look inside the sleek, curved beauty of Turn House
Related article: Peachy tones and gorgeous curves in the latest home renovation from Three Birds
Arched doorways
Curved or arched doorways are popping up all over the place. While it might seem like a current trend, arched doorways have featured in a range of styles over history including French provincial, Spanish and Mediterranean, Art Deco and more. Many of the period homes we've featured on SC, like this historic home, celebrate arched doorways and now we're seeing them included in more modern homes, too. They're a fab way to add an architectural element and a touch of elegance to your home.
If you're looking for more arched doorway inspo, check out some of our fave home tours including House 12 by Three Birds Renovations, Kyal and Kara's family home, and Louise from Villa Styling's relaxed boho home.
Get inspired and shop the trend — Curved interiors
Scroll for more!
Recessed shelves
Not quite as drastic as a full doorway, but having just as big an impact, consider adding curved recessed shelves to your room. They suit any space in the home. Like this gorgeous feature in the ensuite bathroom in House 12 from Three Birds Renovations. Or go bigger and incorporate a recessed arched bookshelf into your home!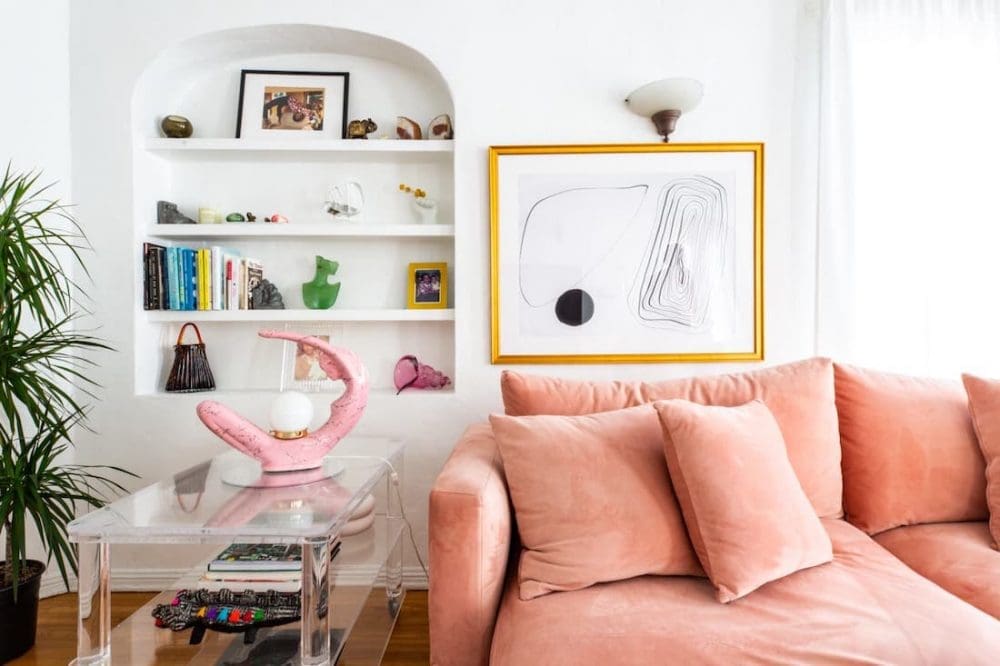 Curved exteriors
Ok… so this is not technically curved interiors, but it's too divine not to mention! If you're getting ready to build or renovate, you might like to consider adding curves to the exterior of your home.
We mean… swoon! The sweeping curves of Ribbon House are enough to make us want to knock down and rebuild our own home! And the clever and thought-provoking design behind Turn House is a stroke of architectural genius.
Outdoor curves
Can't quite bring yourself to make your home curved? Here are some ideas that are a little more subtle yet oh-so beautiful.
The House of Curves by Luke and Jasmin saw the theme continue outside in the garden. From their day bed, the decking and smooth-edged walls, this garden had curves in all the right places.
We also love this subtle curved outdoor shower wall from The PAUSE. Simple but just that little bit different.
Curved walls
Coming back inside the house and we're about to show you one of our all-time favourite ways to embrace curved interiors — curved walls. They're just so sexy!
This white, half-dowel curved wall from Orton Haus had us swooning from the very first look. We all remember how The Block 2020 was all about the curve, and the wall in Luke and Jasmin's kitchen had to be our fave.
Then of course, if you want a curved wall, but don't need one, you could incorporate it through custom joinery. Like this elegant example from the ultimate parents retreat by The Stables.
Curved kitchen islands
A room where you've probably seen curved interiors really taking off is in the kitchen. Curved kitchen islands look ah-MAZING and here are just a few of our faves.
Making a seriously bold statement was the black on black kitchen at Concord residence. Sleek, sophisticated and subtle with its curves — it proves curves works just as well in minimalist interiors.
The talented duo at Zephyr + Stone showed us how to use curves and that fabulous fluted surface on the kitchen island in this contemporary coastal kitchen.
And of course we couldn't write a feature about curved kitchen islands without including that showstopping custom made Christian Cole piece from Daniel and Jade's place. It's not to everyone's taste, but there's no denying it makes a dramatic statement.
Curves in the bathroom
If you love the idea of curves and want a bit more than just a furniture piece but can't quite commit to the full-blown doorway or wall, how about trying curves in the bathroom?
Gina embraced curves in her latest bathroom renovation reveal. Adding a pill-shaped shaving cabinet and that divine pink NOOD concrete sink, these pieces are the perfect way to play with the curve trend without jumping in head first.
But if you do want to make more of a statement in the bathroom, a curved shower is our favourite way to do it! This arched shower with arched niche is too beautiful and that curved Kitkat shower is beyond cool!
Curved furniture and decor
Of course, we couldn't finish this round up of curved interiors without mentioning a less in-your-face way to embrace the trend, and that's through furniture and decor.
Think pill-shaped coffee tables, sideboards with curved edges, wall sconces, arched mirrors, bookcases and vases. Curves look set to stick around for a while so let's enjoy them!
Not forgetting that curved bedheads are another beautiful way to take on the curved trend without going too OTT. Or, why not look for furniture pieces with curved inset panelling for a stunning, but subtle nod to the curve.
Get inspired and shop the trend — Curved interiors
Scroll for more!
What do you think of the curved interiors trend? Are you a fan? If this article has inspired you to add some curves in and around your home, we'd love to see them! Tag us on Instagram or drop us a comment down below.
Disclaimer: This post contains some affiliate links. This means that when you click on a link and purchase something from that site, we may make a small commission at no extra cost to you.